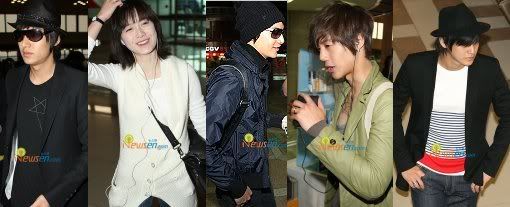 More glamorous airport pics after the jump…
Okay, that wasn't really accurate. The main cast for Boys Before Flowers – the notorious Flower Four (F4) and Geum Jan-di (actress Gu Hye Sun) were at the airport, on the way to promote their drama in Japan. These pics were taken at Seoul's Gimpo Airport on the morning of 15 April.
Japan is where the original manga and drama – Hana Yori Dango originated from.

KBS 2TV drama Boys Before Flowers (or Boys Over Flowers) started airing in Japan on April 12. In Japan, the cast will appear on one of Japan's best talk shows SMAP X SMAP '스마스마' on FujiTV. The program is hosted by SMAP members Kimura Takuya and Kusanagi Tsuyoshi. Hollywood stars such as Tom Cruise, Johnny Depp, Victoria Beckham have been on that program. Korean stars Rain (Jung Ji-hoon) and Jang Dong-gun were also guests before.
F4 (Lee Min Ho, Kim Hyun Joong, Kim Bum, Kim Joon) and Gu Hye Sun will aslo meet with fans at Tokyo's JCB Hall at an official Japanese fan meeting. Pop groups SS501 and T-MAX will be performing songs from the original soundtrack at the event.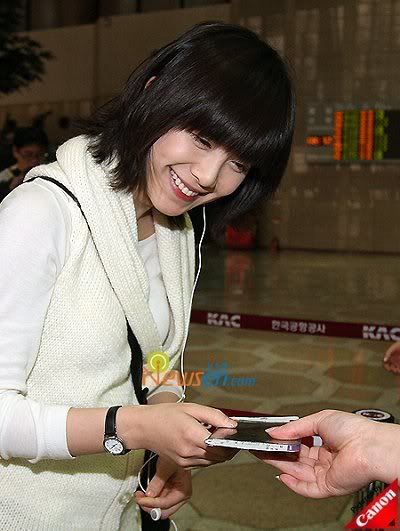 Gu Hye Sun (Geum Jan-di) going through customs at Gimpo Airport

Lee Min Ho (Gu Jun Pyo) dressed in all black armed
with a good book and juice for the short flight to Japan
Kim Hyun Joong (Yun Ji Hoo) looking scruffy and very much
like the leader of a pop idol group (SS501) – i like!
Kim Joon (Song Woo Bin) in his Abercrombie & Fitch tee
rushing to catch his flight
Last but not least Kim Bum ( So Yi Jung) – who's the most elusive,
there are hardly any good shots of him at the airport. Plus he looks tired.

Source & pics credit: Newsen