F4 and Gu Hye Sun all colour co-ordinated on Japanease talk show Sakaseusang
Korean F4 (Lee Min Ho, Kim Hyun Joong, Kim Bum and Kim Joon) and Gu Hye Sun went to Japan on April 15 to promote their drama Boys Before Flowers. They appeared in a Japanese talk show called Sakaseusang. The TBS Sakaseusang live TV talk show was shot in Akasaka, Japan.
F4 and Gu Hye Sun arrived just minutes before the live talkshow came to an end. Fans were quite disappointed to only be able to see the Korean actors for only 2 minutes. The host only managed to squeeze in a couple of questions to Kim Hyun Joong who replied in Japanese. He's the only one who is fluent in Japanese.
After the program went off air, it has been reported that there was an additional 30 minutes where the Boys Before Flowers cast were interviewed and interacted with fans. The 30-minute clip has yet to be aired on Sakaseusang. However, below are some of the questions that were asked…

Where do you want to go first in Japan?
Kim Bum & Lee Min Ho: Harajuku
Kim Joon: Roppongi
Gu Hye Sun: Ueno Park
Kim Hyun Joong: Because I love beef, I really want to try deopbapin 덮밥인 famous beef bowl, "gyudong" 규동(牛丼) that I heard it's very delicious (KHY replied in fluent Japanese)
Do you have any memorable memories in Japan?
Lee Min Ho: I've been to Nolreoon 2 years ago with a friend, and I didn't know how expensive the taxi fare was from Tokyo airport to Shibuya. That was the price I won't ever forget. (laughs)
[ The cab fare from the airport to downtown Shibuya is a close equal to the price of a round-trip air fare from Korea – Japan!]
What are your memories after working on the drama?
Kim Joon: Everyone was friendly on the set.
Kim Bum: Although the shooting schedule was physically and mentally taxing, it was a happy and fun time for me.
Lee Min Ho: Since the drama was shot in winter, many of us were suffering from cold. There was even one scene where I had to jump into a swimming pool on a cold wintry night. Because of that, i was eventually admitted to the hospital for a couple of days!
Kim Hyun Joong: I suffered from lack of sleep and was pretty much exhausted during the filming of the drama.
Lastly, Gu Hye Sun was asked who is her favourite F4 member and she replied Lee Min Ho and Kim Hyun Joong. (I'm not surprised…because those are the two she had to work the most with, and whom she had to kiss too! 😉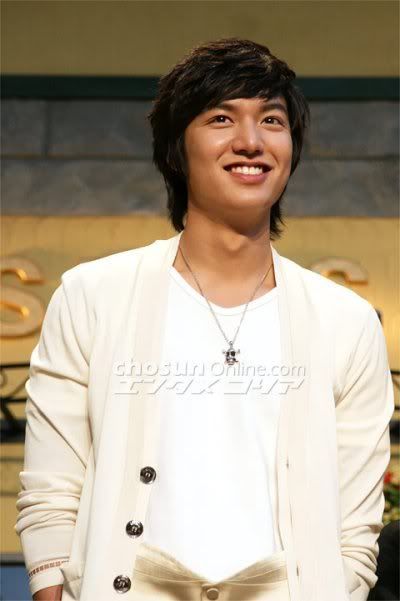 Lee Min Ho didn't looked his best. That sweater is so
boring it looks like something his grandpa would wear!
And the hair is neither curly nor straight! Not his best look.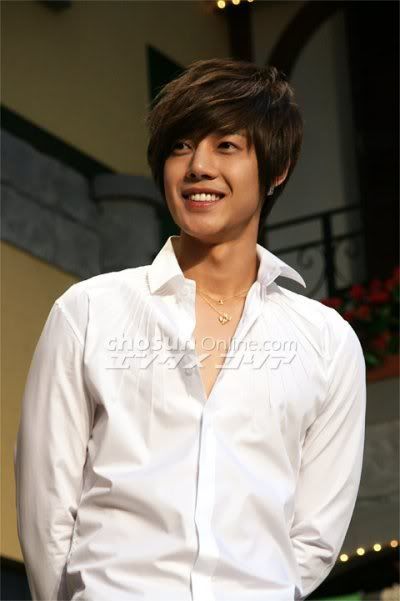 Kim Hyun Joong looks hot from the waist up. That white shirt and
gold chains around his neck is awesome next to his tanned skin.
However, from waist down, he looks like he's wearing a woman's
capri pants and a very feminine belt.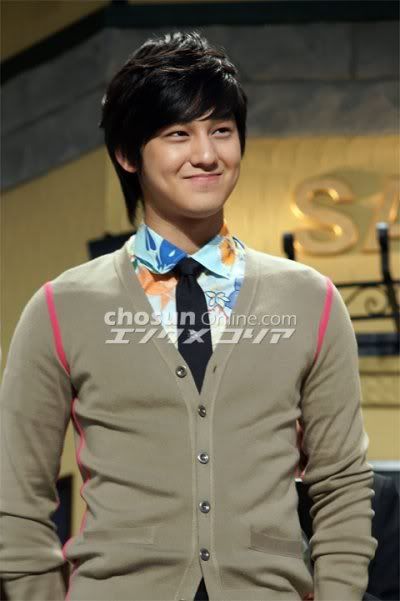 Kim Bum looks too uptight and proper in the sweater…
and what's with the Hawaiian print shirt? Looks like he
left his impeccable fashion sense back in Seoul.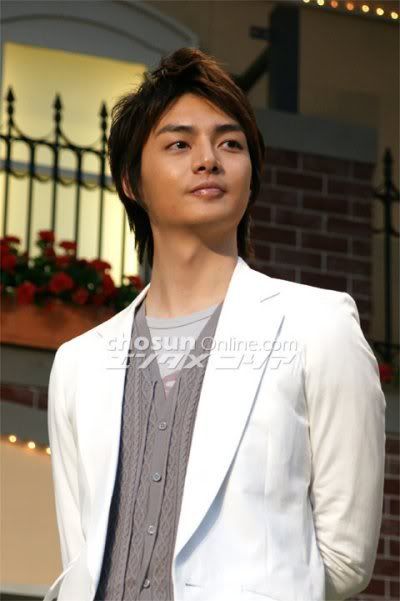 Kim Joon doesn't look hot, but not too bad either.
Don't like the grey sweater/vest he's wearing inside.
There's no pic of Gu Hye Sun on her own, but i like her chiffon dress
Here's the 2-minute clip of them on Sakaseusang:
Sources: Chosun.com, Jazzholic
More Boys Before Flowers entries:
Boys Before Flowers a failure
F4 – Airport – On the way to Japan
Boys Before Flowers farewell party