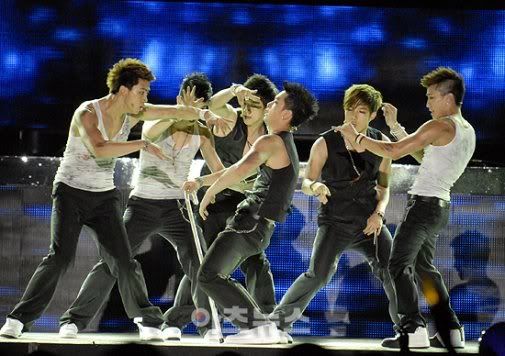 2PM pays tribute to the original Bad Boy
This is a definite must-watch for both Rain and 2PM fans.
JYP's 2PM pays tribute to superstar and once-upon-a-time JYP protégé, Rain on M Countdown's Heroes (비 History히스토리) on June 04, 7pm. They perform Bad Guy (Nappeun namja) and Rainism!
However, some might be disappointed that Nickhun is absent in this performance as he is back in Thailand participating in a concert.
2PM gave an excellent performance, and tried to imitate Rain's dance moves right down to his facial expressions…however, it doesn't come quite close to how Rain does it. The original Bad Boy 비 is just priceless! Although i must say that Hwang Chan-sung aced the cane dance.