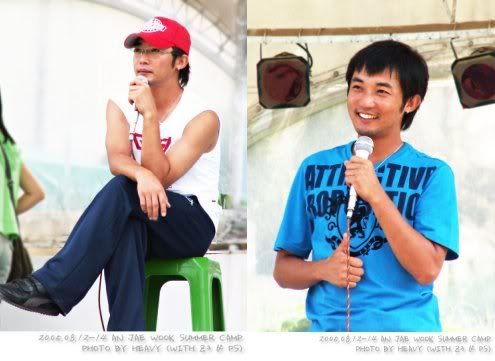 Ahn Jae Wook talking to his fans at summer camp (2005)
I want to go to summer camp too!
That was my thought when i found out hallyu star Ahn Jae Wook holds a summer camp in the outskirts of Seoul, Korea and fans from all around the world get to spend 3D/2N with the star. Talk about down to earth and appreciating your fans! Ahn does not make "special appearances" at the camp, but he will indeed spend the entire three days with his 400 or so fans at the camp site! Video clips show that he will cook barbecued samgeoupsal (pork ribs) and serve his fans too.
What do they do at camp? You can read the full review of the 2007 camp on Visit Korea website. But to get a gist of it, here's a brief itinerary…

DAY 1:
Arrival and check-in

Groups and ice-breaking

Cultural performance by groups (evening)
DAY 2:
Outdoor games (sort of like a tele-match)

Pool games (after lunch)

Barbecue outdoor dinner (where AJW BBQs his favourite

samgeoupsal

for fans)

Mini-concert
DAY 3:
Farewells (AJW reads out love notes from fans)
Why does he do this you may ask? To this, Ahn Jae Wook (38) says, "I've made a promise to my fans."
Ahn has faithfully kept to this promise he made to his beloved fans many years ago and has never failed to hold the annual summer camp since 1996. Come rain or shine, the camp will be held! This year will mark Ahn's 13th Forever Summer Camp and it will fall on 25- 27July, 2009.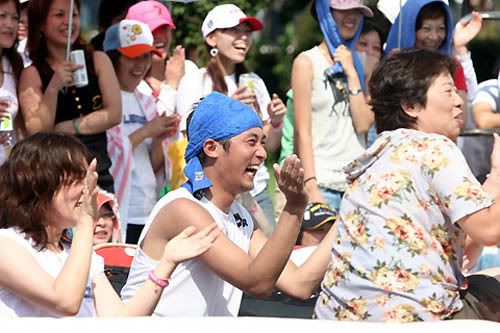 Fun & games time – Forever Summer Camp 2006
How to enroll for AJW's Forever Summer Camp? First you've got to become a Forever Fan Club (Ahn's official fan club) member. They will guide you through the rest!
Here's a special video on EW (Korea's Entertainment Weekly) showing you clips of the 2008 Forever Summer Camp.
Thanks to
Ahn Jae Wook Forever Singapore
Group on Facebook for the video clip.
Pics credit: Korean blog, Naver
More on Ahn Jae Wook:
Get to know Ahn Jae Wook (profile)
Ahn Jae Wook at recording studio
Ahn Jae Wook wins lawsuit, recuperates from throat surgery