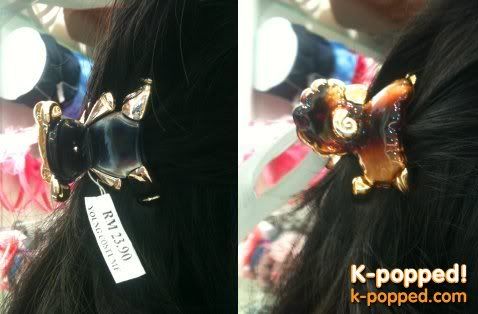 Left: Black & Gold Teddy Bear clip
Right: Brown & Gold Ram
Aren't those animal inspired hair clips lovely? Something out of the ordinary yet very affordable!Liz and myself were delighted to find a shop at Tropicana City Mall selling Korean-made hair clips. We found a sign outside the shop that says "Boyoung hair clip specially imported from Korea"! Interested to find out more, we went into the store to find a wide selection of jaw clips from Korea. On a plus side, the clips have a 3-month warranty so you don't have to worry that the metal spring holding it together will give way after a couple of days.
Prices for the clips are pretty reasonable at around RM20 – RM40.
Tell us if you discover a place that sells Korean accessories that you fancy, so the rest of our K-popped! readers can benefit from your discovery!
Clips come with a 3-month warranty
Comments
comments