DramaFever.com, the largest online provider of Korean TV dramas and a leading distributor of Asian entertainment in North America, won the 2010 Best Business Award at the 2010 DARI Awards.
The DARI Awards, which is named after the Korean word for "bridge", recognize companies and individuals that have made outstanding contributions to the introduction of Korean culture in the American marketplace. Past recipients of the DARI Awards include Kollaboration, YA Entertainment, CJ Entertainment America, and the William Morris Agency.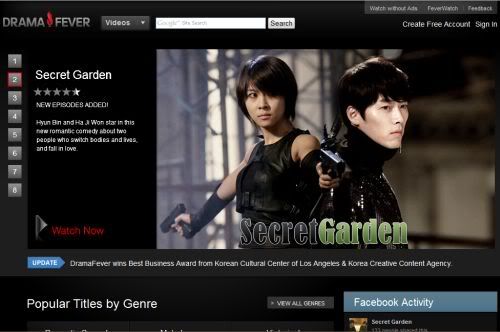 NOW SHOWING: Hyunbin & Ha Jiwon's Secret Garden is playing at DramaFever
"It's an honor to be recognized for our hard work bringing Korean entertainment overseas to a new American audience," says Suk Park, co-founder of DramaFever.
"We always knew that American audiences would love Korean entertainment if a proper platform existed. With DramaFever, we've created a one-stop destination online to enjoy Korean dramas, documentaries and short films, without having to speak Korean."
DramaFever provides an online platform for easy access to popular primetime TV from Korea. All TV shows are subtitled in English and the site is designed entirely for Americans to enjoy and explore Korean entertainment.
DramaFever is the first online American company with a groundbreaking roster of licensing agreements from all three major Korean broadcasters (MBC, SBS and KBS Media). In addition, DramaFever licenses TV shows from independent Korean production companies such as Victory Productions, JS Pictures and Group Eight.
Overall, DramaFever has 21 licensing partners with plans to double that number in 2011.
Congratulations to the DramaFever team! 🙂
Check out the site at: http://www.dramafever.com/ (DramaFever only streams its content in the US and Canada. Malaysians are not able to stream from the site).
Comments
comments