Hallyuwood's A-list actor Song Il-kook talked about his career, married life and Malaysia-Korea TV content during his visit to Malaysia on Dec 2.
The 39-year-old was in town in conjunction with the Korean TV Content Trade Meeting & Screening, which was jointly organized by PDS Global and Karis Communications & GMC. Song Il-kook, who was the spokesperson for the event, talked about what Korean TV has to offer the public.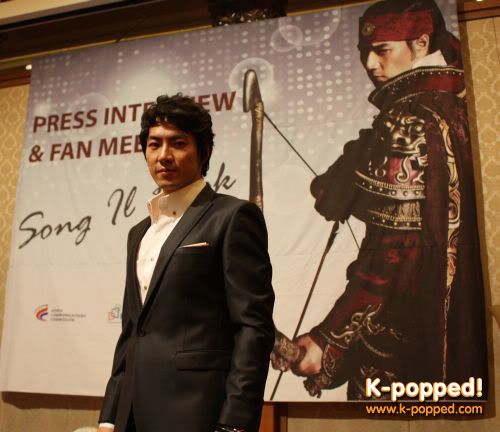 ANNYEONGHASEYO, MALAYSIA: Song Il-kook appears to the press and fans
Apart from that, a press conference-cum-fan meeting with the star was also held at Nikko Hotel, Kuala Lumpur.
Before the press conference / fan meeting, K-popped! sat in on the Malaysia-Korea TV Content Forum where Korean TV networks such as KBS, SBS and MBC promoted their programs.
At exactly 3pm, a smiling Song Il-kook walked into the press room. He was rather taken aback when he noticed the fans. About 100 of them were present and some came from Singapore, Hong Kong and Iran!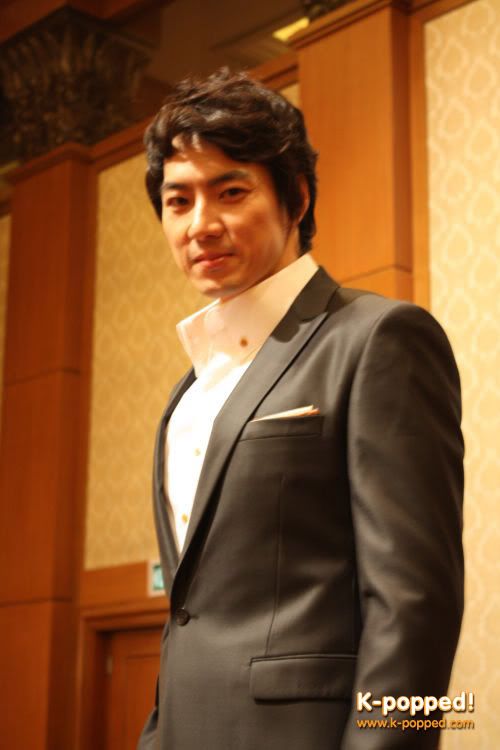 HI! THANKS FOR COMING: Il-kook was happy to see fans at the press conference
During the press conference / fan meet, the star was the perfect gentleman as he catered to all of his fans' requests. Many got to take pictures with him while some even managed to get more than one autograph from him. On top of that, the star even stepped off the stage to sing Happy Birthday to not one, but TWO fans!
Read on to find out what the Jumong actor says about his fave Kpop idols, upcoming Hollywood project and married life.
Is this your first visit to Malaysia? What do you think of our country?
Yes, this is my first visit to Malaysia and it's not as hot as I expected it to be. I've tried some Malaysian food at Madam Kwan's last night and I also tasted the local beer. Was it Tiger Beer? It was good. (laughs)
What do you think about the Korean film and TV industry?
Truth be told, I'm not the best person to talk to about this. But in my opinion, the Korean film and TV industry will continue to grow. It is a competitive world after all, and the industry is no different.
PARTNERS: Il-kook thinks that a collaboration between Malaysia and Korea in TV content is feasible
What are your thoughts on the collaboration in TV content between Malaysia and Korea? Is it something feasible?
Yes, it is. We have many dramas on Korean TV. There are daily dramas in the morning and mini series at night. And since TV dramas are very competitive in Korea, a collaboration between our countries might be a good thing.
Malaysia, like my country Korea, is a beautiful country in terms of its culture and nature. Perhaps we can use that to our advantage if we were to produce dramas together.
Who is your role model?
I don't really have a role model actually. But if I must, I am inspired to be like Sean Connery. Aside from being an awesome actor, he also has the looks and even looks sexier the older he gets (laughs).
I still have a long way to go, though. But hopefully I can be just like him (one that people look up to) one day.
You're known for your characters in historical drama like Jumong and also The Kingdom of the Winds. Do you have any plans to star in that genre again?
Historical dramas are called sageuk (사극) in Korea. As much as I'm interested in appearing in that genre, filming is actually very hard. Actors need to train a lot and it takes extra time and effort to film too. As of now, I think I will take a break from sageuk. But in the future, if there's an opportunity to appear in sageuk, I will try to do my best.
What projects are you working on right now?
Currently I am reading a script, so yes I will be on screen soon. I can't tell you much about it but it will be a new movie.
You have won many top awards in Korea. Are you planning on going international soon?
I'm considering it. Right now, I'm actually involved in a Hollywood production. The story is about love between a Korean man and an Iranian lady.
However, we are still in discussions, but hopefully it will materialize. If that's what you mean by going international…yes, I am heading towards it. But the most important thing to me is to perform well.
The Hallyu Wave trend these days is the Kpop idols. Are you a fan of any?
I expected this question (laughs). I'm a fan of Girl's Generation (SNSD) and I also watch music videos by Wonder Girls.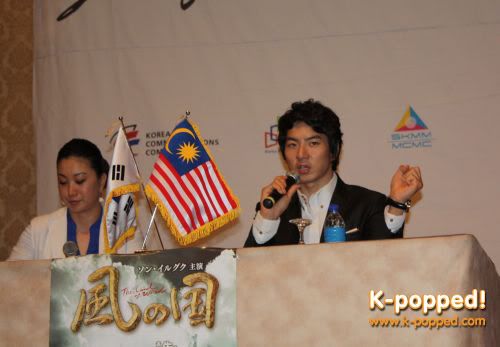 GEE, GEE, GEE, GEE!: 'Yeah, I'm a SNSD fan. Shoot me.'
It has been 3 years since you got married. How is married life so far?
Thank God, I am very happy. I am blessed with a happy family and I am very much in love with my wife (smiles).
You'll be celebrating your 40th birthday next year. Any special wish?
For my birthday? I hope I will be blessed with a child next year.
Any last words?
First and foremost, I would like to thank everyone in Malaysia for supporting Korean dramas. I can see that you love dramas too aside from Korean music.
Also, I am pleased to see many of you here today and it was nice to meet the press and fans in one place. Please look forward to my new projects. Thank you so much.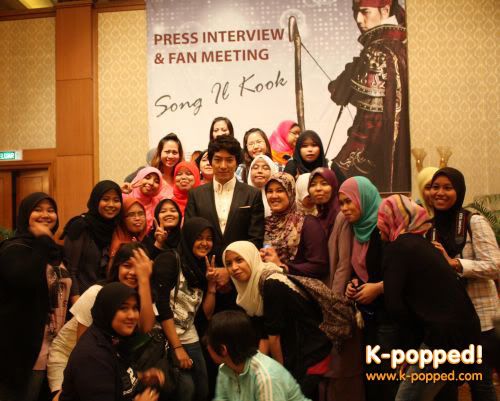 SMOOTH: 'My name's Song, Il-kook Song and yes, I'm a chick magnet.'
Check out the gallery below for more pictures!
[nggallery id=4]