It was reported earlier that Han Seungyeon, Goo Hara, Jung Nicole and Kang Jiyoung filed notices to terminate their exclusive contracts with DSP Media on Jan 19. The only member who did not do so is leader Park Gyuri.
Updates has it that Goo Hara retracted her contract termination and upon hearing this bit of news, fellow member Han SeungYeon may also be reversing her decision!

SeungYeon, one of the original members of Kara alongside Nicole and Gyuri
Apparently, the members have previously brought up the issue of termination but they were unaware that it would happen so suddenly. It is believed that the entire situation was instigated by their parents while the members discovered the matter through the press.
In an interview with Newsen, parents of the 3 Kara members (excluding Hara and Gyuri) claimed that the company has been continuously refusing their requests for proper income balances. They felt that DSP Media is gaining inequitable profits at the expense of their children, who are suffering from fatigue.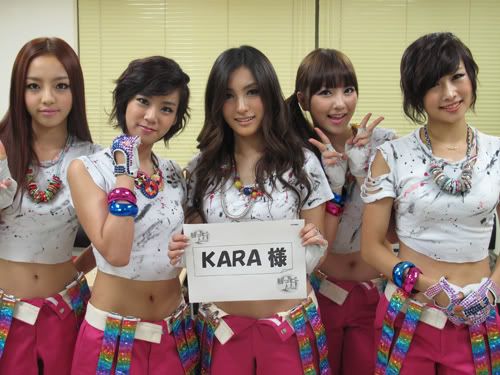 Members of Kara, who have been working hard over the past year by
juggling between their Korea and Japan activities.
DSP Media has since refuted this by releasing an official statement saying that the discontent has been a result of misunderstanding. The income distribution method used for the quintet are of their best interest and further cemented their statement by announcing that all employees are being paid instantly after profits are received. They also claimed that they have been most adequate in promoting Kara as one of Korea's most influential and outstanding idol groups.
DSP Media also issued a warning towards the supposed company which has seemingly stepped up to offer the members a better contract, asserting that such known actions will result in legal consequences. They also maintained that the group will continue their activities into the future, even if it may require some of Kara's current members to be replaced.
For now, let's hope that this issue will work out for the better for the sake of  the members of Kara as well as the Kamilias all over the world.