K-pop idols face-off in solo song battles on Immortal Song 2, a Korean variety show.
The show starts with a randomly selected pair, who will sing their own versions of a song by a featured artist. The audience will then vote the winner. The winner will then proceed to face-off with another randomly drawn idol contestant until an ultimate winner for the episode is chosen.
The first episode of the show featured pop idols Jonghyun (SHINee), Yesung (Super Junior), Yeosoeb (Beast), Changmin (2AM), Hyorin (Sistar) and IU. The show was quite a hit as it secured a viewer's rating of 7.9%.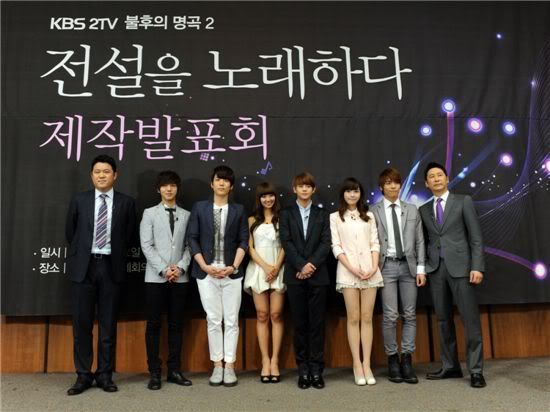 ONE-SHOW ONLY: Most of the cast from the first episode will be leaving the show.
Since then, quite a number of idols have stated that they will be leaving the show due to conflicting schedules. IU, Yesung, Jonghyun and Yoseob will be replaced by Secret's Song Jieun, 2PM's Joonsu, FT Island's Lee Hongki and MBLAQ's G.O in the coming episodes. Besides that, it is said that a new ruling has been put in place to decide the performance order.
According to the show's PD, Kwon Jae-young, more idols are expected to join the show such as f(x)'s Luna, Super Junior's Kyuhyun, 2AM's Jokwon, CN Blue's Jung Yonghwa, Miss A's Min, 4minute's JiYoon, Infinite's SungGyu and UKISS's SooHyun.
Sources: B2STRISING and JujuGal [1 & 2]