The WooJung couple of We Got Married (WGM), a "mock married couple" program, is currently in Cherating, Pahang!
SELAMAT DATANG!: Jang Woo (left) and Eun Jung are in Cherating, Pahang!
Actor Lee Jang Woo (Smile, Donghae) and his "wife" T-ara's Ham Eun Jung will be filming for the MBC variety show for four days.
The couple arrived at the Kuala Lumpur International Airport (KLIA) on June 14 at about 4:50pm (local time). They then flew to Kuantan to get to Club Med, Cherating.
Eun Jung even tweeted about her visit to Malaysia on June 14 (pic, below). She said that she was leaving for Malaysia and would not be able to tweet for four days.
The pair will take a flight back to South Korea on June 17.
Below is a screen shot of the pair arriving at the Sultan Haji Ahmad Shah Airport in Kuantan, Pahang. They were greeted by a Club Med staff. Selamat datang (Welcome), WooJung! 🙂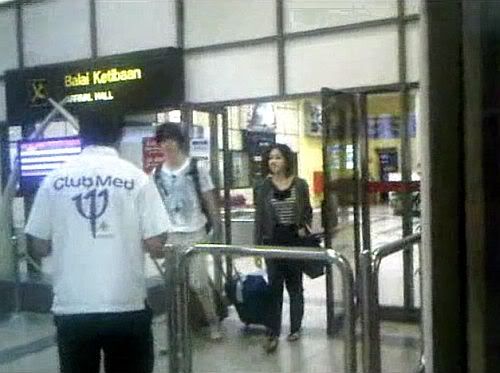 ARRIVAL: The lovebirds arriving at the airport in Kuantan – Taken bySyamimi Norrazif