Eight B-boy crews, one stage and only one winner. On June 11, crews from 7 different countries battled it out on the dancefloor for a chance to represent South East Asia in the upcoming R16 finals, which will be held in South Korea. The teams were from Malaysia, Laos, Vietnam, Indonesia, Singapore, Thailand and Taiwan.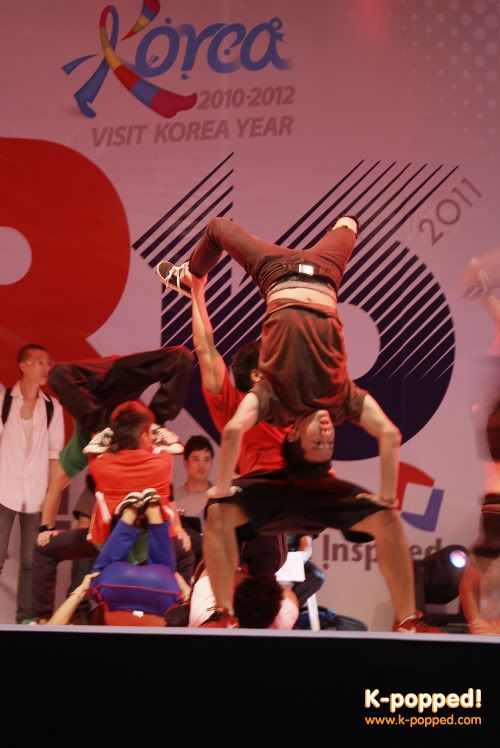 BATTLE: Dance crews show off what they've got!
To the uninformed, the "R" in R-16 represents "respect", and the competition aims to unite people from all walks of life by creating mutual respect for one another, especially through dance.
After a short and sweet welcome speech by Yun Jae Jin, Managing Director of the Korea Tourism Organization (KTO), a mesmerizing Malaysia Cultural Performance by the KL City Hall (complete with wayang kulit, silat and b-boy elements) followed.
The battles kicked off with each of the 8 crews performing their routine for the audience and most importantly, the judges: B-boy Dyzee (Canada), B-boy Physicx (Korea) and Lil G (Venezuela). The performance also helped determine the order of the battle rounds. Also present that night were DJ Dust (Korea) and MC Jaz Ivy (Korea).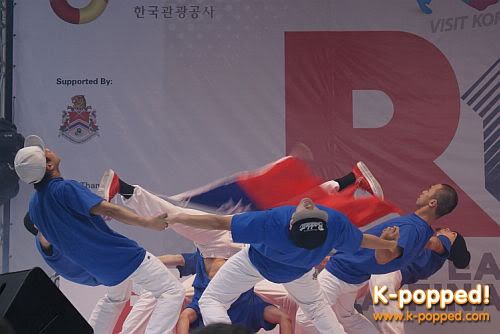 BENDY: 'Look Ma, we can bend waaay back.'
As the judges deliberated over the battle sequence, the audience were treated to a special K-pop performance. Two local dance crews hit the stage with Ruffneck'z turning on the heat by performing SHINee's Lucifer and then slowing things down with Big Bang's Tonight. Next was Progression with B2st's Fiction followed by Super Junior's It's You. With the crowd all warmed up, it was time for the battles!
DANCE: Ruffneck'z does the "Walk Like an Egyptian" move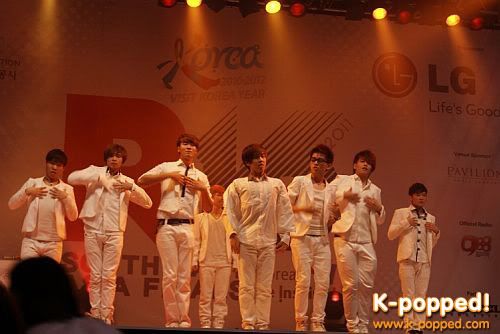 LIKE THIS, Y'ALL: Progression shows you how to do a good chest pump
A thrilling 10-minute, 4-round battle ensued, and in most cases the winners were rather obvious. The bolded crews below were the judges' pick.
Round 1: East Riders Crew (Indonesia) vs Formosa (Taiwan)
Round 2: Famous Crew (Malaysia) vs Laobangfai (Laos)
Round 3: 99 Flavas (Thailand) vs Big Toe (Vietnam)
Round 4: Style Groove Crew(Singapore) vs Giller Battle Crew (Malaysia)
In the end, two exhilarating battles were set: Formosa against Laobangfai and our very own Giller Battle Crew versus Big Toe. Needless to say, all 4 teams gave it their all and at last, both Formosa and Big Toe emerged victorious.
A brief showcase by the judges followed before the final showdown between crowd-favourites Formosa and Big Toe.
SHOWDOWN: "Check me out!"
After 15 minutes and some extra time (yes, it went down to another 3-on-3 battle because the judges had some difficulty choosing the ultimate winner), Formosa won the battle! The crew will be representing South East Asia in the R16 Finals on July 2 & 3.
NUMERO UNO: Formosa wins the trophy…and the chance to represent South East Asia in the R-16 Finals in South Korea.
A huge pat on the back for our boys who despite their loss, put on amazing performances that night. Kudos to the other 6 crews in attendance as well.
Excited for more? Local B-boy fans who want to watch the R-16 finals LIVE, can do so by joining KTO's customized "R16 Tour Package" from 30th June – 5th July.
SECOND PLACE: Big Toe of Vietnam sure gave Formosa a good fight.
Apart from watching the R-16 final competition in person, tour participants will get a private viewing of the Korean B-Boy Training Studio. On top of that, you can also chill out at the Hongdae Club Street as well as attend the R-16's outdoor pre-event.