——————————————————————————
Buy Super Junior Mr Simple Album, Posters & T-shirts
——————————————————————————
ELFs have been holding their breath as Super Junior's royal comeback descends upon them, after over a year since Bonamana was released in May 2010. The group's title track, Mr. Simple is said to be about the ways of coping with the loss of hopes and dreams.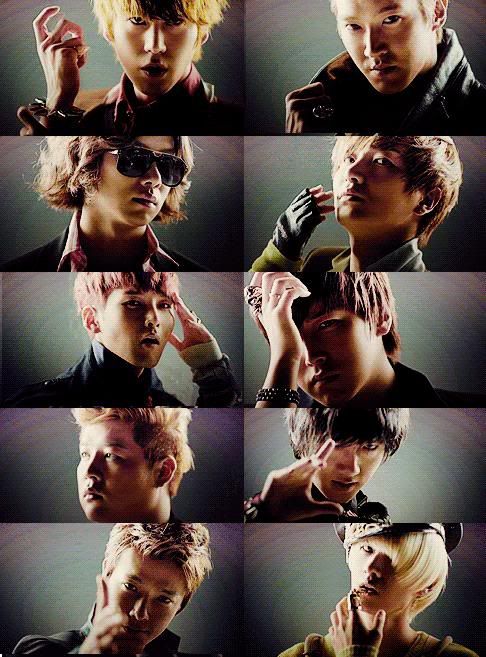 SMOKING: All 10 members looking hauntingly, fine.
On August 1, SM Entertainment released two video teasers for Mr. Simple (another brainchild from Yoo Young-jin, who previously worked with SuJu on hits such as Sorry, Sorry and Bonamana) on its official YouTube channel.
The sleek, monochromatic and washed out colours of both videos is vastly different from their concept photos, which have been unveiled earlier on.
Their more vivid, loud and 'ubersexual' images (as quoted by SM Entertainment reps) from the concept photos were replaced with a more refined and stylish look (akin to that of the boys' Sorry, Sorry days) leaving some of their fans confused while others delighted.

LOUD & COLORFUL: The more "ubersexual" side of the Super Junior members.
Are the teasers misleading like Bonamana? Or spot-on like Sorry, Sorry? Well, it still remains to be seen. Nonetheless, the digital track for Mr.Simple was unleashed this morning (Aug 2 at 12:00AM (KST)) through various online music sites like Melon, Bugs and Naver.
So, is Mr. Simple your type?
Other songs on the upcoming comeback album include Dong-hae's composition of Y, depicting the emotional downfall of a break-up, K.R.Y.'s ballad, My Love, My Kiss, My Heart and a few songs that draw inspiration from SuJu's own memories and experiences like Good Friends and Walk In.
In the meantime, I will be amongst those who hope that there will be one or two songs in the new album that will bring SuJu back to their SMP roots, with a catchy beat and hard-hitting choreography.
SuJu's 5th album drops on Aug 3rd, 2011.
——————————————————————————
Buy Super Junior Mr Simple Album, Posters & T-shirts
——————————————————————————