2PM are here in Malaysia for their Hands Up Asia Tour Live in Malaysia 2011. They will be performing at Stadium Merdeka on 25 Nov 2011. The guys were very touched by the warm welcome displayed by their MYHOTTEST (2PM fans in Malaysia) at the airport the night before.
2PM at the press conference in Hilton Hotel, Kuala Lumpur, Malaysia
"WHAT'S YOUR FAVOURITE SONG TO PERFORM IN CONCERT?"
At the press conference, K-popped! asked 2PM what is their favourite song to perform in a concert. And each of them replied…
Chansung: Hot – it would be the first song on the track which Junsu composed. I would be happy to perform that.
Junho: Give It To Me – when the audience cheered for the song and for me, I felt thrilled because that was the song I composed, so that was a great experience for me.
Junho (left) and Chansung answer questions at the PC in Malaysia on Nov 24
 Junsu: Hands Up – when I perform, everybody puts their hands up and I feel happy.
Nichkhun: I think I like doing slow songs. I like performing I Can't because we don't have to dance, and we just walk around the stage. It's great cos we get to make eye contact with fans and touch your hands.
Nichkhun (left) talks about touching fans' hands while Junsu is mesmerized by a girl in the crowd 😛
 WooYoung: I like to perform Thank You for HOTTEST
Taec: I like My Valentine the most, but I'm going to say I like performing Back To You. It's the most famous, performance wise. It's a hot and sexy song! Haha.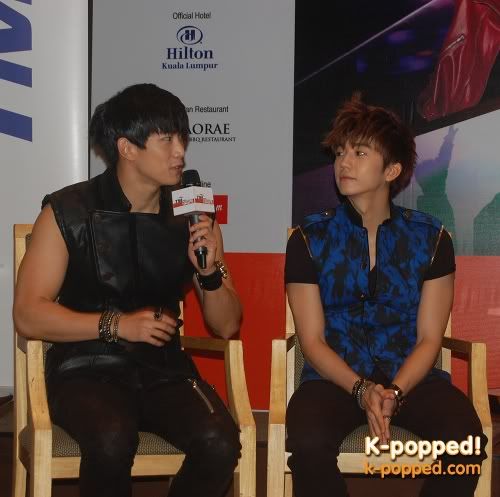 Taec (left) tells Wooyoung that he likes performing Back To You because it's hot and sexy. Wooyoung seems to agree.
 Well, don't take my word for it, view the video clips!
[VIDEO] Fave song – Chansung
[VIDEO] Fave song – Junho
[VIDEO] Fave song – Junsu
[VIDEO] Fave song – Nichkhun
[VIDEO] Fave song – Wooyoung & Taec
Related story: 2PM Hands Up Asia Tour in Msia 2011 PC
Comments
comments