This is your first time in Malaysia. What do you think of the country?
Min: This is our very first time here and we think this is a very beautiful country and we hope to get to eat a lot of local food because we haven't tried that.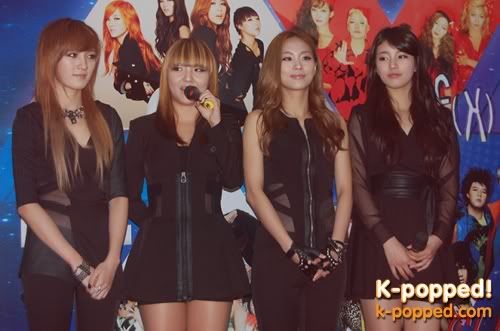 SEXY LADIES: Miss A (l-r): Jia, Min, Fei & Suzy
Miss A's latest hit song Goodbye Baby has achieved great results on various Korean music charts and Miss A is known to have a very strong stage presence. Will Miss A take on the challenge of a new concept in the future?
Min: We always try to do a lot of different things. We always try to do new stuff so hopefully we'll do something crazy or…I don't know. *laughs*
INTRODUCTION: Jia says hello to the Malaysian press
What are your plans for 2012?
Min: First of all, we are promoting in China and throughout Asia and our album will be released somtime next year.
FUTURE PLANS: Miss A will drop an album sometime in 2012