Korean acapella group Red Soul had a successful run promoting their latest album, Stay in Malaysia.
The quintet's promotional tour kicked off on April 12 with various activities such as media listening parties, showcases, autograph sessions and also TV and radio appearances.
TWIN TOWERS: The guys managed to squeeze in a photo-op with the iconic Malaysian structure
The group not only wow-ed Kpop music lovers in Kuala Lumpur, but also flew over to Kota Kinabalu, Sabah to reach out to fans there. Their promotional tour drew more than 1,000 music lovers in total. The guys then returned to Korea on April 15.
Red Soul has been active in various music festivals and competitions in South Korea. They cater to a niche crowd of Kpop music aficionados, especially those who love vocal harmonies.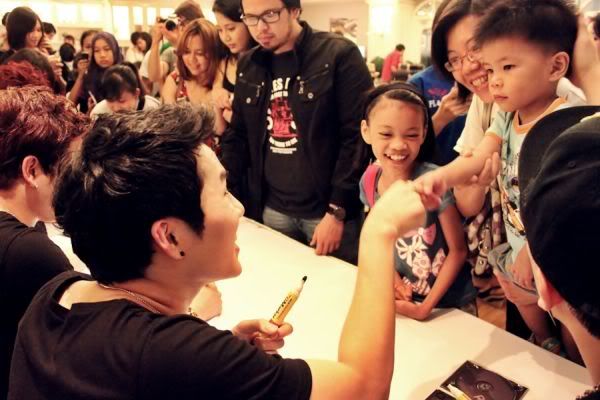 GETTING CLOSE: Lee Hanulyi says hello to a kid at their autograph session at Fullhouse, Sunway Giza
During their showcases, Red Soul performed original tracks from their album Stay as well as popular Kpop tracks. Their original songs are I Will Be Your Knight, The Man Who Loves One Woman and Ting. They also performed a medley of Kpop smash hits from 2011.
COZY: A lovely afternoon of music with Red Soul at Bentley Music Showroom, Mutiara Damansara
The concept for their Kuala Lumpur showcases was Intimate where the guys were all charming and romantic towards their fans. Meanwhile, for their fans in Sabah, the guys went into their Nolza (Let's Play) mode. They let their hair down and partied with their fans.
PARTAY: Letting all hang loose while in Kota Kinabalu, Sabah
Red Soul revealed that they will now focus on the release of their upcoming single in June. The guys are also planning to rebrand themselves as a 'Harmonic Vocal R&B Group'. This is so they can showcase their versatility even more.
GREETINGS, SABAH: Hello everyone, let's have fun

Red Soul is made up of (pic below, left to right): Kang In Chang (23), Jun Tae Ik (24), Hwang Tae Ik (24), Kim Kihyun (24) and Lee Hanulyi (26).
You can find Red Soul on:
Facebook: http://www.facebook.com/music.redsoul
Twitter: @Vocal_RedSoul
Related:
Korean acapella group Red Soul in Malaysia
Red Soul cover versions – projects
Red Soul Press Conference in Malaysia
Red Soul performs live in Malaysia