Before he left for military service, Rain (a.k.a Jung Ji-hoon) filmed the aerial action flick R2B: Return to Base. The movie, which is inspired by the 1963 South Korean flick Red Scarf, revolves around a fighter jet pilot with an attitude.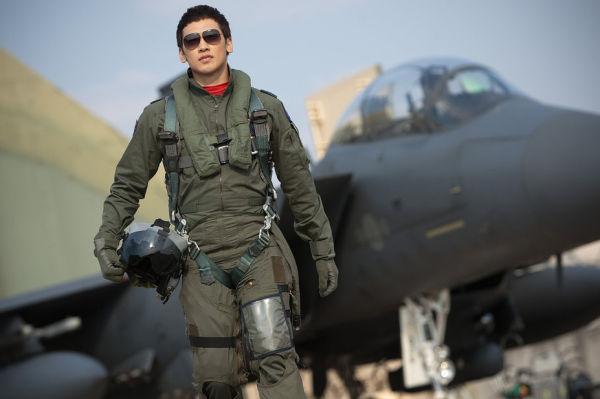 MAVERICK?: Wonder what nickname Rain goes by in the movie…:P
To prepare for the part, the 30-year-old — along with this co-stars — had to undergo an endurance test, and Rain being Rain, passed it with flying colors.
Watch the video clip below to see Rain undergoing High-G training. The Korean sensation withstood up to almost 9G of pressure!
To shed a little more light on this, High-G training is done by aviators and astronauts who are subject to high levels of acceleration (G). The training prevents G-LOC (g-induced loss of consciousness). g-forces move blood away from the brain to the extent that consciousness is lost. A normal person can withstand about 5G before the lights go out.
Rain's co-star Kim Sung-soo said: "Once you past the 6G test, you're ready to board a jet. Rain was the first one out of all of us to pass the 6G test. You're pretty much set once you pass the 6G test. But Rain insisted that he do the 9G pressure test as well. He passed.
Sung-soo added: "Passing a 9G test is something that only the top 1% of jet pilots can do, and you certainly don't do a 6G and 9G test all in one day. The air force said that this is the first time anyone has done that."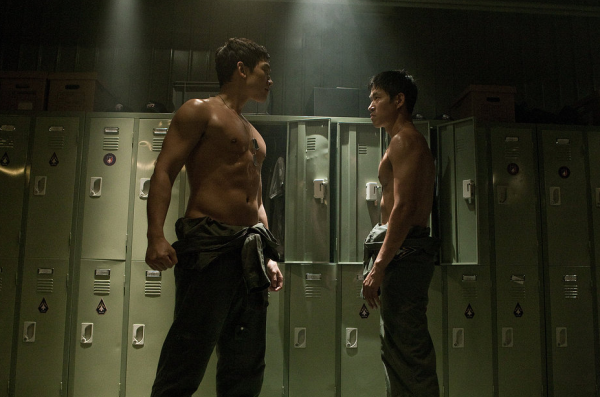 FLEX: Big boys getting combative
In R2B: Return to Base, Rain portrays Tae-hun, a South Korean Air Force pilot who is kicked out of his elite show team the Black Eagles and demoted to a combat unit. The loose canon cannot see eye to eye with his new unit's leader but befriends the rest of the squad easily, and even catches the eye of ace mechanic Se-yeong (Shin Se-kyung).
One fine day, an North Korean jet enters South Korean airspace which results in the untimely death of a team member and the disappearance of another behind enemy lines.
Tae-hun, along with his unit leader, are tasked to lead a daring and unsanctioned mission to rescue their comrade down at the DMZ. The pair only has 7 minutes to complete the near-impossible R2B mission!
R2B: Return to Base opens in the US on Aug 24.
We have no idea when it will come to Malaysia. Anyone knows? 🙂
Surfing: http://www.r2b2012.com/
Also read: