Monday, Tuesday, Wednesday, Thursday, Friday, Saturday, Sun-whoops!
On Saturday, Nov 10, the guys who brought us the addictive Mazeltov were in town for a special showcase.
During the press conference held in Westin Hotel, Kevin (who spoke fluent English) remarked that the group was really happy to see fans welcoming them at the Kuala Lumpur International Airport, especially when it was only their second visit to Malaysia.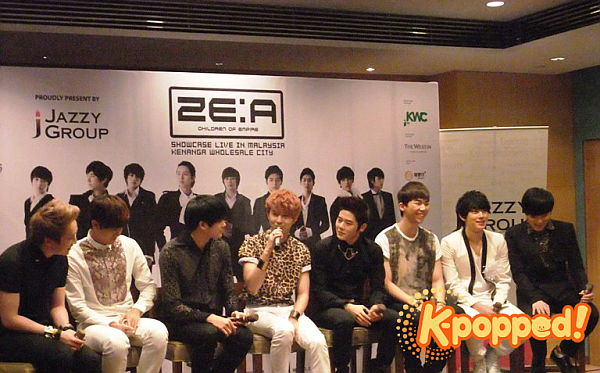 MINUS ONE: Leader of the group Jun Young is missed 
Due to an injury, the leader of the group Jun Young, was unable to come. However, this did not affect the group's performance much as it was clear that the crowd at Kenanga Wholesale City was solidly entertained.
The showcase — which went on for an hour and a half — was slightly delayed, presumably due to the heavy downpour before the event. Nonetheless, ZE:A kicked the show off with Body to Body and followed it up with Watch Out!. They then quickly warmed the crowd up with Aftermath before their charming introduction session.
"I am married!" exclaimed Kwang Hee, during the session.
This is because Kwang Hee is in the mock marriage variety program We Got Married. He is "married" to Secret's Sunhwa.
GOOD TO BE BACK: The ZE:A guys greet their Malaysia fans 
It was evident from the cheers that Siwan and Kwang Hee were the favorites. During one of the game sessions, these two members were identified as the ones who slip up the most while performing on stage!
GAME: 'Now who is the "dirtiest" member again?'
Meanwhile, Hyung Sik was chosen as the "dirtiest" member, probably because he is also the person who enjoys indulging in food the most!
The guys then continued the showcase with Become a Star, Never End, Whole Day Long, Heart for Two and their hit single, Mazeltov. The group also entertained with their latest track Phoenix.
As with all showcases, the guys were in high spirits when they got to interact with fans through the various games.
Lucky ZE:As were randomly selected for the games. Some of them walked away with customized T-shirts from ZE:A themselves. Others got the chance to have fun with the members while most of the lucky fans received hugs from the guys.
One fan was even serenaded by Dong Jun with Wang Lee Hom's Forever Love. Awww….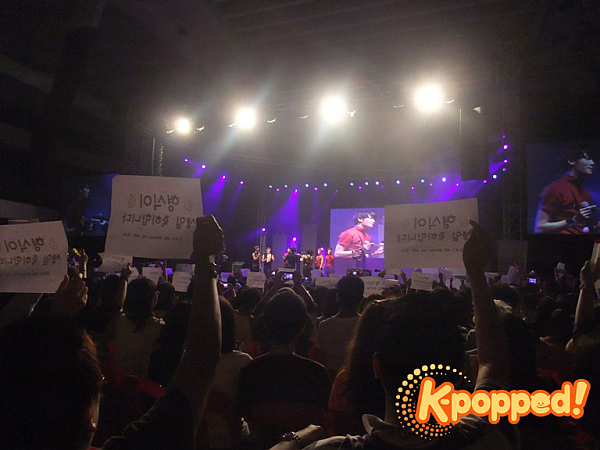 HAPPY BIRTHDAY!: Hyung Sik is shown much love
Hyung Sik was close to tears after being surprised by the fans' Birthday Project. The fans prepared placards that read: "HyungSik, Happy Birthday. ZE:As will always be with ZE:A" and presented him a cake.
Finally, ZE:A ended the eventful evening with My Only Wish. They returned to the stage for an encore with an energetic remix of Body to Body, which includes a snippet of the oh-so popular Gangnam Style.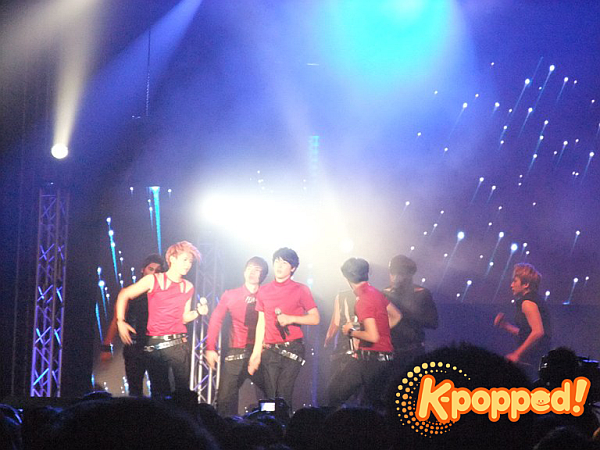 DANCE: ZE:A put on a show to remember
Check out our ZE:A photo gallery!