Super Junior- M, a subunit to the largest group in the world – Super Junior – has made their much anticipated comeback with Break Down.
On Jan 7, Super Junior-M (SJ-M) held their comeback press conference at Beijing's CGV International Cinema (pic above) before unleashing their 2nd album, Break Down to the public.
Although the group's last release was back in 2011 with the EP Perfection, it was evident that SJ-M's popularity has not wavered. The Chinese media came out in full force to cover the group's comeback.
Channels such as MTV, HuNan TV, DongNan TV, Sina, Sohu, WangYi and YinYueTai along with 200 fans, who were exclusively invited, were present at the press conference. Some fans even braved the cold the night before just to catch a glimpse of the guys.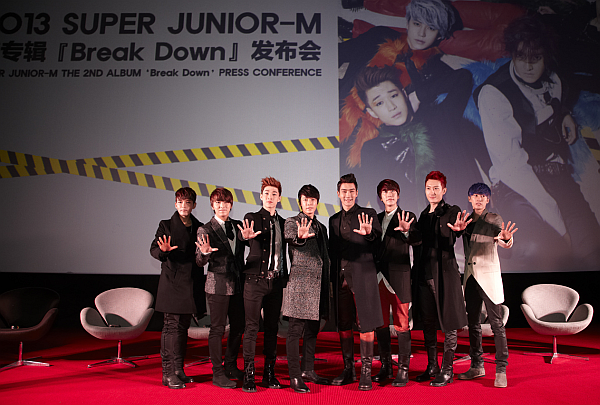 The 8 members of Super Junior-M all suited up and ready to "go, go go"!
During the press conference, SJ-M further endeared themselves to the crowd with their improved Chinese language skills. They also showed a mini-episode of the "making of" Break Down MV.
Two members of the group, namely DongHae and KyuHyun then performed a snippet of Break Down for a very appreciative crowd. Finally, the press conference ended with the premier of the highly-anticipated music video. Follow this link to watch it!
Well, it looks like we will be getting a lot more of SJ-M over the next few weeks. They have already appeared on Yin Yue Feng Yun Bang and a fan meeting for their Chinese fans is set for January 19 in Nanjing.
Meanwhile, both KyuHyun and RyeoWook are all ready for a comeback with Super Junior K.R.Y with the release of their Japanese single, Promise You. The ballad will be unleashed on Jan 23.
Are you ready for more?
Source & Pics credit: Universal Music Malaysia