I was in Singapore last weekend, and guess what? I visited the Korean restaurant where Rain and his crew dined at when he was in Singapore for the 2007 I'm Coming World Tour!
This is where Rain and his crew dined at when
he was in Singapore for the 2007 I'm Coming World Tour
~ Jang Shou Korean BBQ at Esplanade Mall
I'm not bluffing…Rain left his mark and was there on 21 January 2007

How did it all happen?
While in Singapore i meet up with K-popped! reader Fraulein and since the both of us love all things Korean, what better way than to have our very first meeting over a Korean barbecue dinner! Before meeting up, Fraulein gave me a list of very enticing Korean restaurants to choose from, and of course – we decided on Jang Shou – for obvious reasons. 😉
Jang Shou restaurant is located at Esplanade Mall. The Esplanade is a magnificent building with state of the art architecture, but to put it bluntly, it looks like the "durian". Esplanade – theatres on the bay is where you go to watch plays, attend musicals, art exhibitions etc. It is the center of arts in Singapore. You can also shop at the Esplanade Mall and dine alfresco at the Waterfront. The place is just fabulous and i am so glad to have discover it this time around. It's now my favourite place to visit after the famed Orchard Road for shopping!
That's me in the blue dress at the Waterfront waiting for Fraulein.
Behind me is Marina Bay and the beautiful view
of the city of Singapore. In front,
they were setting the
stage up for a free open-aired concert later
that night.
Don't ask me who took the photo.
I had to hire a paparazzo ok! 😉

The view behind me – City skyline of Singapore from Marina Bay.
You see that white spot smack in the middle of the picture?
That's the Merlion.
When Fraulein arrived, we made our way to the restaurant and promptly ordered our sumptuous Korean meal.

Needless to say, i was quite taken in by the dinner place mat autographed by Rain. I scrutinized it, and tried to read Rain's scribbling first. After failing to decipher what he wrote i then took a couple of shots of the piece of paper on the dinner table before delving into the simple, no-nonsense menu.
The menu at Jang Shou is not extensive – they don't even have Kimchi Jjigae. Isn't that Rain's favourite dish? I mean isn't that a Korean staple? How come they don't have Kimchi stew? 왜? 왜? Did they specially prepare it for Rain when he visited the place? I wonder.
Despite not having KJ, i like the menu. It's simple and straight to the point. You order what you want and there are limited choices. But what they serve, i bet it's all good. We had no complaints for the food we ordered. They were all good.
Here's what we selected:

Olive Pork Ribs with Honey (S$25)
This is a MUST ORDER when you visit the restaurant.
It's a house special and is very delicious.
Marinated pork ribs barbecued over a charcoal grill.
If you are wondering what those other items on the plate are,
it's a piece of onion and a mushroom.
This is what the pork ribs look like on the barbecue stove
.
Okay, i guess now is a good time to add that this restaurant is non-halal.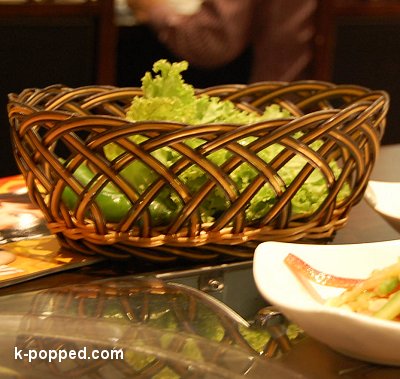 Refreshing green lettuce to wrap all that barbecued meat in.
See the green chili (gochu) they serve with the lettuce?
Koreans like it hot!

Other patrons enjoying their meal
After a very nice meal and good conversation over dinner, we left the restaurant happy and satisfied. On the way out, we stopped by Rain's poster to ogle for awhile before adjourning to Marina Square nearby for some shopping (more on this later…).

Rain's poster proudly displayed
on one of the walls at the restaurant
Other stuff i did in Singapore: