Hugh Jackman & Daniel Henney Seoul Press Conference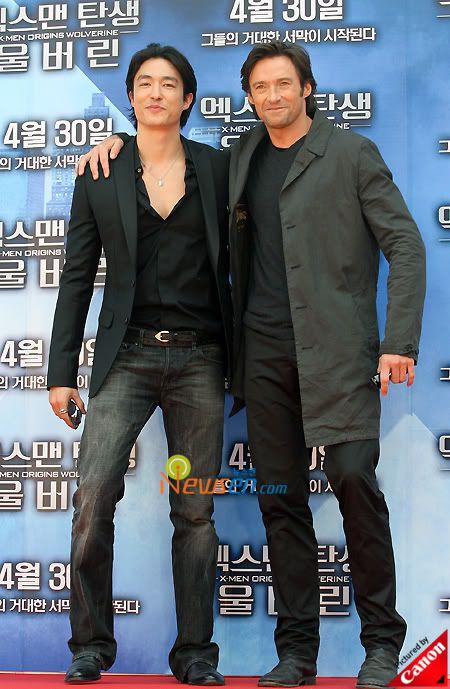 Two X-men heartthrobs landed on Korean soil…
Daniel Henney(left) & Hugh Jackman at the press conference on April 10
Here are some fan-tabulous pics of X-Men Origins: Wolverine heartthrobs Hugh Jackman (Wolverine) and Daniel Henney (Agent Zero) at a press conference in Seoul on April 10. The press conference was held at a beautiful Korean courtyard at 11:30am this morning.
Later tonight, Jackman and Henney are scheduled to appear at another press conference at Cheonggye Plaza at 7:30pm. They will also attend a series of red carpet events and hand-printing event.
The movie will be released on April 30 worldwide.
More pics after the jump…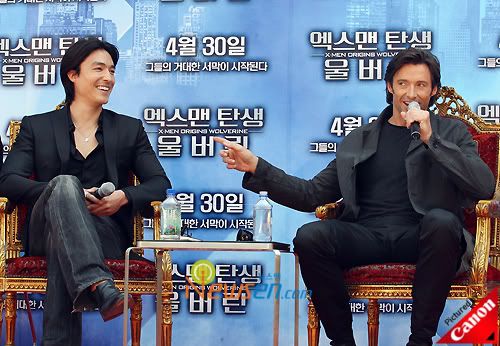 I'm hot, but I want hair like THAT!

In a recent promo event, Hugh Jackman expressed that he's heart broken over the leaking of his new film on the Internet a month before it's official release. Jackman was speaking to around 600 fans and media at Sydney Harbour's Cockatoo Island.
Well readers, i will definitely be waiting till the movie is officially released and view the completed version on the huge screen. What about you?
Related:
X-men Wolverine actors on a day out in Seoul
Hugh Jackman goes to Seoul, Korea
Daniel Henney & Hugh Jackman to promote movie in Korea
Daniel Henney in X-Men Origins: Wolverine trailer
Daniel Henney becomes a mutant for X-Men