Rain at the Six to Five open ceremony fan signing event,
Lotte Dept Store, Seoul
Singer and now fashion designer/entrepreneur Rain (real name Jung Ji-hoon) was at Lotte Department Store on April 5 for a SIX TO FIVE open ceremony fan signing session. A huge crowd gathered at the department store at Nowon-go Seoul before the event at 1pm.
Six to Five is the Korean entertainer's casual clothing brand. Rain involves himself in the designing of the pieces and models for the brand too.

Right after a disappointing loss in court for a canceled concert in Hawaii, Rain appeared to be all right, smiling and waving to fans at the event.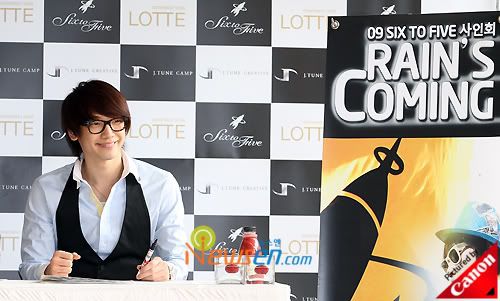 What…no one wants an autograph?
Despite being such a new brand, the local (as in local in Korea) brand has garnered explosive sales records. Rain does not only sing and dance well on stage, he has proved to be a smart marketeer by strategically placing his brand to increase awareness. Rain got Boys Before Flowers actors Gu Hye-sun and Kim Hyun-joong to wear SIX TO FIVE in the drama to increase brand value. Oh yeah…that is definitely a wise move, considering how popular that drama is, and how influential it is among the hip and trendy.
SIX TO FIVE has also made alliances with the Teddy Bear Museum and features products such as teddy bear key chains, towel sets and even an exclusive Rainism collection set. The Fresh Woman key ring is especially cute! Click here to check out the teddy bear collection.
I must say, the products are quite attractive and with Rain himself promoting Six to Five, i am sure the brand will take off in Korea and other parts of the world.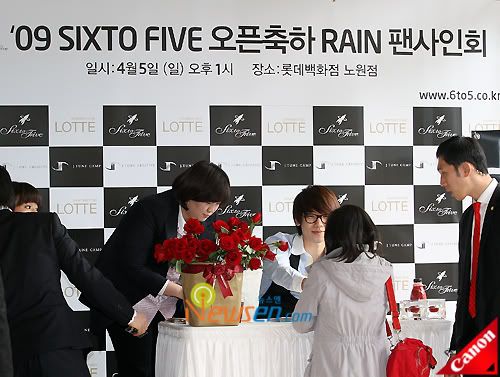 Source: Newsen
Related:
Rain's Six to Five Fashion Show / Concert
Rain is a cuddly wuddly teddybear
Korean pop star Rain introduces fashion brand SIX TO FIVE