Boys & their expensive toys:
Woo Bin & Yi Jung ponders which car to take
Liz, Orchid & Rooster for a spin in
Ever since i read Dramabean's News bites on the cars each of the F4 drives, i've wanted to do this entry. But i have procrastinated until now, with the reason of searching for good pictures (please do not hotlink!) to go with this entry.
Y'know in some dramas all you see is one car make in which all the leads drive? For instance in Full House everyone was driving a Mercedez and in Bad Love they were all driving BMWs. That would be the case because of car sponsorship for the drama. Well in Boys Before Flowers, you get a much wider variety – more automobile eye candy to feast your eyes on.
So without further ado, let's look into the luxurious world of the Flower Four and see what vehicles they drive around. Are you ready?

Gu Jun-pyo (F4 leader and heir to the Shinhwa empire)
Oh yeah baby, that's one of Jun-pyo's cars – the

Lotus Europa S
.
Pic: Jun-pyo drives off angrily after Jandi makes him mad.

In the first half of the drama, Jun-pyo drives around in a black Lotus Europa S, a two-seater that goes from 0 to 100 (km/h) in 5.8 seconds and tops out at 241 km/h. It is priced at 84.2 million won (RM298,700).
Later, in the second half of the drama, Jun-pyo doesn't drive the black Lotus Europa S anymore. He then switches to a fiery red Lotus Elise S (RM238,600). I first noticed the red car when Jan-di and Jun-pyo went spying on Gaeul and Yi-Jung's make believe date, and i thought driving around in a bright red sports car while spying on your friends was absolutely ridiculous.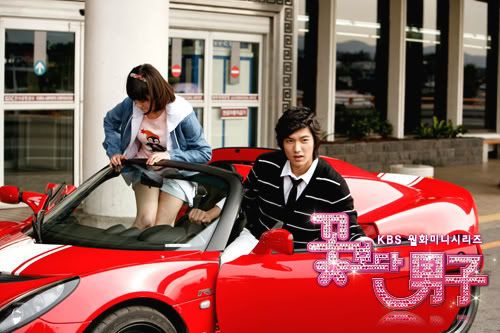 Jun-pyo's

Lotus Elise S
When Jun-pyo (Lee Min-ho) is being chauffeured around, he rides in a huge majestic black Cadillac. Sometimes, you will see him driving it too. Lee Min-ho is also the spokes person for the car brand. I've also seen So Yi Jung driving a red/maroon Cadillac in the drama. Okay when all the rich people are being chauffeured, they are in a Cadillac.
Towards the tail end of the drama, we see Jun-pyo driving a BMW. Of course Jun-pyo is super rich and owns a helicopter and private jet to take him places too.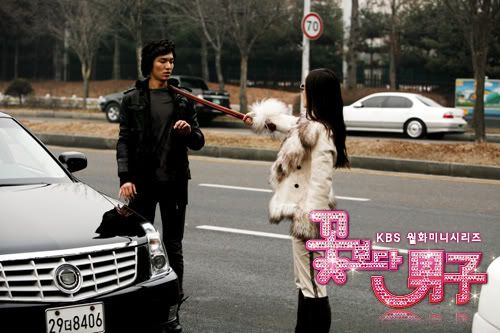 Jun-pyo and his

Cadillac

Song Woo-bin (son of a construction & real estate magnate)
Maybe i'm a loner, but i have a hot car!
Woo Bin in his

Lotus Elise SC
Woo Bin (Kim Joon) cruises around in a canary yellow Lotus Elise SC (0 to 100 km/h in 4.6 seconds, tops out at 240 km/h, priced at 82.2 million won). It's pretty similar to as Jun-pyo's red Lotus Elise S.

So Yi-jung (Playboy extraordinaire & artist)

Yi-jung and his Lotus Exige S240 at Jeju
Yi-jung (Kim Bum) drives an orange

Lotus Exige S240

, another two-seater with faster acceleration (0 to 100 km/h in 4.2 seconds) and tops out at 250 km/h. It goes for 99 million won (RM338,800). It is the most expensive among the Lotus two-seaters you see in the drama.
Yun Ji-hoo (Grandson to an ex-President of Korea & musician)

Ji-hoo on his MV Agusta F4 R 312
Because his parents died in a car crash when he was young, Ji-hoo (Kim Hyun-joong) prefers to ride around in a Massimo Tamburini-designed MV Agusta Superbike most of the time. The superbike actually has a higher top speed than the cars at 312 km/h. The price ranges from 30 million to 40 million won, although the priciest model goes for 150 million won.
But when he wants to make it more comfortable for his lady friend or when he is ferrying more than one around, he opts for a white Mini Cooper S convertible (RM235,000). Ah such a cute car!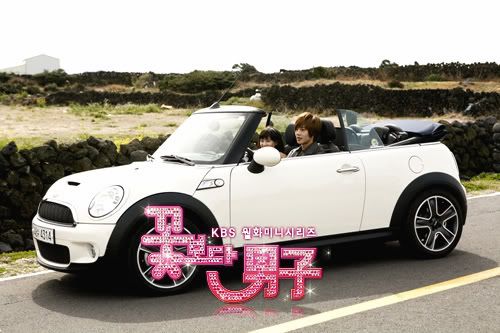 Whee…let's go for a joyride in my

Mini Cooper S

convertible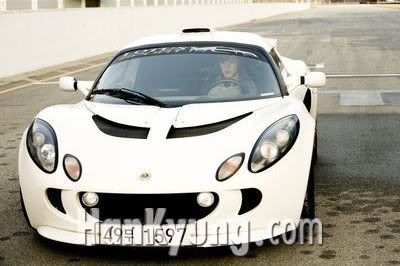 Ji-hoo tries to over-come his fear of driving as he challenges Jun-pyo in a race. In the race, he drives a white

Lotus

sports car
So who would you ride with? 😉
Source: Dramabeans
Also thanks to Mohd Ridhwan (K-popped! reader and car enthusiast) for providing the additional information. 🙂
If you liked this entry, you might also like:
Gu Jun-pyo is a vain pot!
Behind the scenes with Lee Min Ho in Jeju-do