Okay, this is what we've been waiting for, the rest of the F4 music videos. And boy did they make us wait. Ji-hoo and Jun-pyo's music videos were supposed to be released on May 5th but was delayed until May 19. Here's episode 3 and 4 of the Boys Before Flowers After Story (5 years from where the drama left off that is).
There's barely any new footage in Ji-hoo's episode. Only the part where he makes a snow man i think. After five years, our dear Ji-hoo sunbae is still pining for Geum Jandi and thinks about the times they spend together. He loves her still.
Jun-pyo's episode is really cute. He makes little Geum Jandi choc biscuits for her. And of course sings the song "My Everything". 🙂 @Liz, perhaps not quite a Hwanhee, but he does have a husky voice and will get better with more training and practice.



Episode 3: Yun Ji-hoo
(ss501 sings "Sometime")
Episode 4: Gu Jun-pyo
(Lee Min-ho sings "My Everything")
Ji-hoo seems to have the least new footage. It looks like Kim Hyun-joong didn't spend much time shooting the "After Story". I wonder if he wants to put his Ji-hoo sunbae character behind him. We actually see Jun-pyo and Woo-bin a lot. So Lee Min-ho and Kim Joon must have spent the most time on this project.
Anyway, no more short music dramas please. Maybe after five years and after the boys have done various other projects, reunite them for a movie. 😉
Before i go, here are some special edition pics for you!
Gu Jun-pyo bakes chocolate cookies for his lady love
Song Woo-bin gets dumped and prefers to play with his robots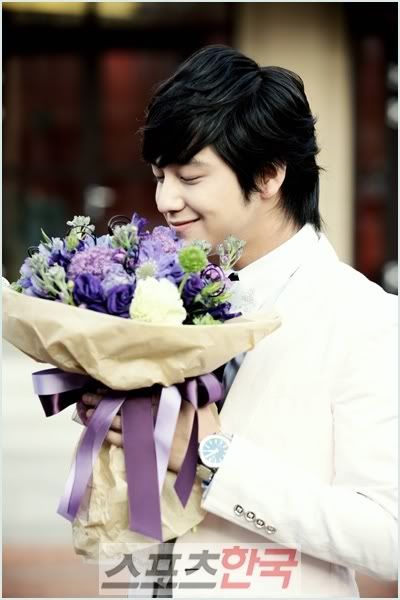 So Yi-jung is so-happy and takes time to smell the lavenders
A sad Yun Ji-hoo occupies himself with a snow man

Source: Dramabeans, Naver News
Youtube video credit: hoonfami
Related:
F4 Special Edition Music Drama (Episodes 1 & 2)
Lee Min-ho sings My Everything (F4 Special Edition Album)