Story of a Man
coming soon on KBS World
Three more episodes to go and Boys Before Flowers would end its run on KBS World (Astro channel 303). The next drama KBS World has lined up for us seems to be quite promising and might prove to be just the balm to soothe your BBF withdrawal symptoms.
Story of a Man (남자이야기 : Namja-iyagi) a.k.a. The Slingshot – the new prime time drama that will take the place of BBF is getting rave reviews. It is said that every episode of this drama is engaging, filled with tension and comes with superb acting from the cast.

The drama stars Park Yong-ha, Kim Kang-woo, Park Shi-yeon, Phillip Lee (The Legend), Han Yeo-woon (My Lovely Samsoon), Park Ki-woong and Lee Moon-shik. It is directed by Yoon Seong-sik and written by well known scriptwriter Song Ji-na (The Legend, Sandglass).
One particular scene that has struck a chord with the viewers is a kiss scene between both Parks (Park Yong-ha and Park Shi-yeon) in episode four. Freshly out of prison, Kim Shin (Park Yong-ha) went to meet his girlfriend Seo Kyeong-a (Park Shi-yeon). She is now a hostess at a luxury bar, spending time with other men, to help pay off his (Kim Shin's) debts.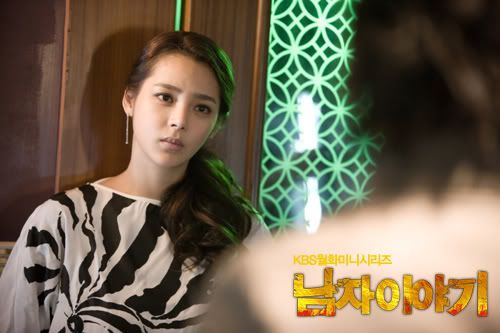 You've gotta pay me like everyone else now…
She obviously still loves him, but tries to hurt him by saying "You need 100 million won to spend a night with me…" The tension and emotional exchange between the two actors were well played and have received praise from viewers.
That kiss will cost ya

The drama is said to be exciting and the protagonist Kim Shin forms a "Dream Team" to confront baddie Chae Do-woo (Kim Kang-woo). It does help that baddie Chae is quite a looker.
The Dream Team – good guys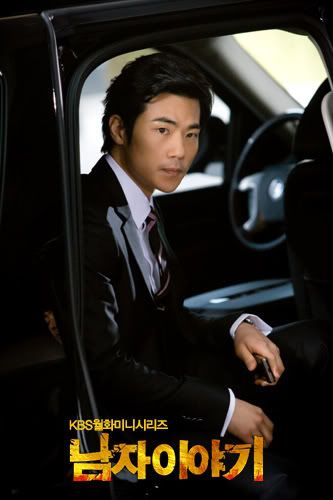 The baddie – Chae Do-woo
"Don't hate me because i'm beautiful"

Does the bad guy get the woman in the end?
You've gotta watch the drama to find out…