Hey everyone! I have some exciting news for you.
Fancy attending a make-up workshop conducted by a bona fide Korean make-up artist? Laneige will be conducting a make-up workshop and only 10 seats are available for K-popped! readers. I repeat ONLY TEN SEATS!
So hurry, and make your way to the Laneige counter at JUSCO Mid Valley to book your seat!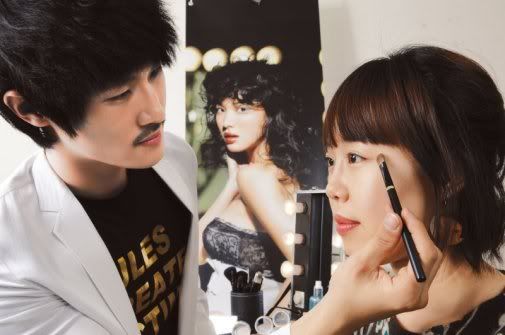 Korean make-up artist Lee Jae-young will be
demonstrating the latest in make-up techniques.
Don't be shy, you can ask him anything!
Work-shop details:
Date: 05 July 2009 (Sunday), 10am – 3pm
Venue: The Gardens Hotel, Mid Valley

How do I sign up?

Sign up for an up close make-up lesson with Korean make-up artist Lee Jae-young by purchasing a workshop voucher worth RM132 from the Laneige counter in JUSCO Mid Valley from 1 – 20 June, 2009.
Flying to Korea would be so much more expensive, but by paying RM132, you will receive:
Exclusive entry to the make-up workshop (for 1 person)


Workshop voucher is fully redeemable for a Laneige Sliding Pact_EX UV (worth RM132)

Door gift worth RM150 (Red tote bag & cleansing oil started kit)

Refreshments will be served

* If you purchase the voucher at JUSCO Mid Valley this Saturday 6th June 2009, you will receive an additional RM10 voucher!
If you love make-up, learning beauty tips and spending a very girly fun time experimenting with different looks, trust me, you'll enjoy yourself. Don't go alone, bring a friend!
Please note that there will be a special sale at the end of the work-shop so you can purchase whatever products you find that you like. So bring extra cash ya?
Read about my experience at last year's make-up workshop! I had a whole lot of fun and brought home loads of freebies. =)
PLUS, you'll also get to meet and chat with Liz and Orchid at the work-shop! See you there!!! 🙂

This is the ultra stylish Laneige Sliding Pact_EX UV
which you can redeem with your workshop voucher