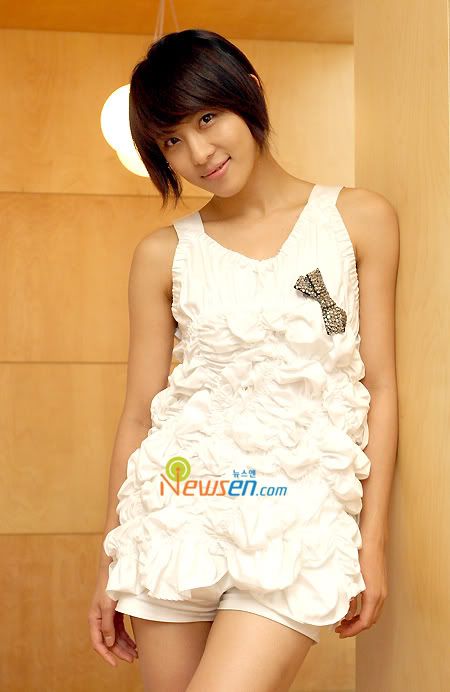 Ha Ji Won absolutely loves her job!
A reporter from Newsen interviewed Korean star Ha Ji Won on June 29, at a café in Samcheong-dong. Ha Ji Won, who projects an aloof and uppity image most of the time, comes across as very polite and has the attitude of a 'good student'. She also seems to love her job as an actor very much.

Ha talked about her new blockbuster movie – Haeundae. The movie is an ambitious disaster movie and the 32 year-old actress stars opposite A-lister Seol Kyung-gu.
Are you worried about the movie (Haeundae) preview? Or are you optimistic that it will do well?
Every day is a happy and interesting day for me. I really like my job as an actor. Right now, I have other things to think about and I am not worried about the preview.
I just want to do my best. Some people are constantly worried about earning more money. I think more of living well and making each day count.
Since Haeundae is Korean's first blockbuster disaster movie, there is pressure to meet people's high expectations. But Korea does not disappoint its audience. I am very impressed with the end-product. You will not be disappointed with the CGI and special effects (such as the tsunami).
At 32, have you thought about marriage?
I haven't thought of marriage – not even once! I'm quite surprised that you ask this. Even though my older and younger sisters are married, I do not think about getting married myself.
When I think back on my last relationship, I feel sad. I haven't been lucky with relationships and have crashed and burned many times. I don't mind younger men. Jo In-Sung and me are doing fine. (Orchid: I wonder why she mentions Jo In Sung. Are they dating?)
The toughest part for me when I was working on the movie Haeundae was getting the Busan dialect right, yet acting naturally. I studied the dialect with the help of a personal instructor for three months prior to filming the movie.
Haeundae will be released on 23 July, 2009.