Nope, that's not a pic of Hyun Bin in a crew cut ready to
attend his compulsory military service…

Hyun Bin (The World They Live In, My Lovely Samsoon) and the rest of Friend, Our Legend cast graced the drama production press conference in uniform!
The press conference was held at the Riviera Hotel, Seoul on 17 June at 2pm to brief the press that the MBC weekend drama would premiere on June 27.

Over to you

:
Director
Kwak Kyung Taek hands over the mike to Hyun Bin.
The drama is a remake of the 2001 movie Friends and Hyun Bin will play lonely rebel Han Dong-su which Jang Dong Gun played in the original movie. Hyun Bin is very brave to attempt a role that was executed so well by Jang Dong Gun. When asked if he is was afraid people would compare him with Jang Dong Gun. Hyun Bin replied, "I'm not worried."
To prepare for his role in the drama, Hyun Bin revealed that he initially did not want to watch the movie, but ended up viewing it 20 to 30 times, repeatedly!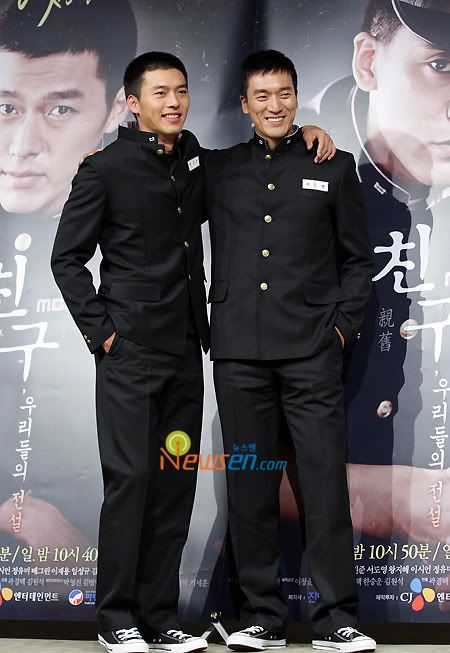 Hyun Bin & Kim Min-joon

The four friends in the drama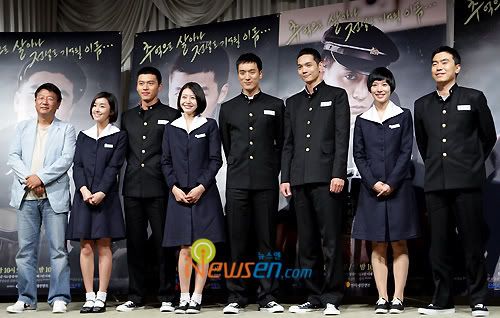 The production crew and cast attended the conference.
Director Kwak Kyung Taek, Hyun Bin, Kim Min-joon, Seo Do Young,
Wang Ji Hye, Yi Sieon, Jeong Yu Mi and Bae Gue Rin.