K.will to appear at Lee Min Ho's fan meeting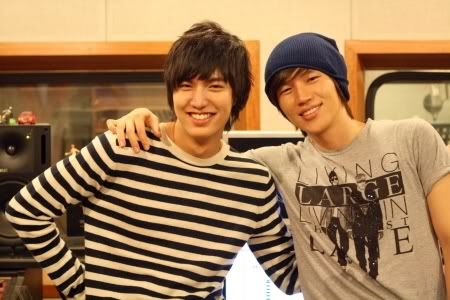 Lee Min Ho & K.will : pupil – teacher

Buddies help each other out right?
Singer K.will (케이윌) will make an appearance at Lee Min-ho's fan meeting to support his buddy. The singer is now known as Lee Min-ho's vocal trainer as he helped Min-ho prepare for his first track My Everything (F4 Special Edition album). Technically, it's Min-ho's second song attempt but I don't consider the CASS beer ad digital single real singing.

Boys Before Flowers star Lee Min Ho will hold his first ever fan meeting on 21 June at Dom Art Hall, Children's Grand Park in Seoul. The party will be called Minoz Happy Day Mini Concert. The fan meeting is timed to coincide with his birthday which falls on 22 June. You can be sure Lee Min Ho will sing My Everything for his fans at the meeting.
So who's going?
Check out K.will's Love 119, featuring MC Mong. It's a very catchy tune.
Source: Asia Today
Also check out:
Lee Min-ho finally finds time for surgery, fan meeting next!
Lee Min Ho sings My Everything
Lee Min Ho's digital single – Cass Beer CF