If you are a tourist, like us, be sure to grab one of those
guide maps to help you navigate around the building
All of a sudden I have the urge to blog about our travels. So here's an entry on 63 Building in Yeouido Island, Seoul.
We visited Yeouido on a cloudy Sunday morning last autumn. K-popped! Trio took the subway from the heart of Seoul (Jongno-3-ga stop) to Yeouido. First we attended service at the biggest church in the world, Yeouido Full Gospel Church. Here in Yeuido is where most of the broadcasting stations are located. The MBC, SBS and KBS buildings are all in this area. After church, we walked along the tree-lined sidewalk taking in the beautiful autumn scenery and visited Noryangjin Fish Market and 63 Building (63 빌딩).

We opted to take a cab for the short journey to 63 Building because it
started to drizzle. Cabs in Korea all have very sophisticated gadgets,
like what you see in this one…equipped with GPRS & Tmoney payment sytem.
Daehan Life Insurance 63 Building is more well known as just 63 Building. The skyscraper which stands 249 meters (817 feet) high is the 3rd tallest building in South Korea, and it overlooks the Han River.
Rooster & Liz in front of 63 Building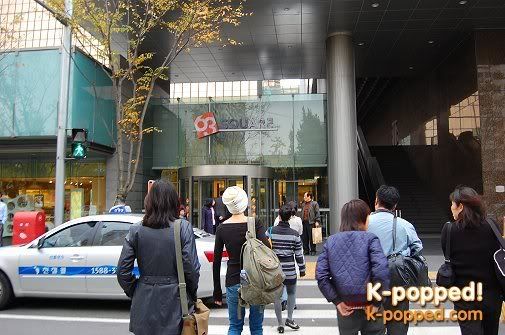 Walking to one on the entrances of 63 Building
63 Building is a suitable place to take your kids out on a family outing. I'm sure couples love going on a date at the observatory at nights too.
There's lots to do at this building. On a Sunday afternoon, we saw many local folks with their families simply enjoying the day.
Main attractions at the 63 Building are:
SKY DECK (top floor observatory with a splendid view)

SKY ART (the highest art museum in the world)

SEAWORD

IMAX THEATER
Tickets for the entry to SKY ART will include SKY DECK. A ticket for all three (Observatory+Aquarium+IMAX theater) costs 26,000 won (adult) | 23,000 won (teen) | 20,000 won (child).
We didn't go for any of those because the queue that day was just too long.
There are also lots of options for food at the 63 Building. From fine dining at the luxurious Buffet Pavilion which offers 200 varieties of worldwide cuisine, to Lotteria – a Korean fast food joint to the classic European-style cafe Beans & Berries, there's surely something for every palette.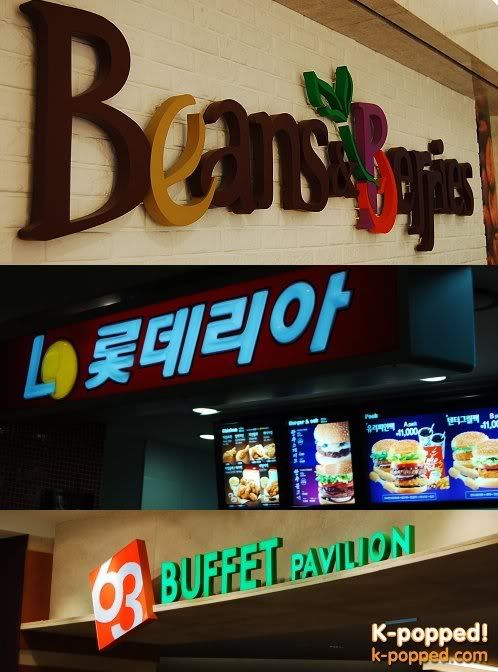 We opted to have lunch at the Food Court and ordered a giant bowl of Bibimbap (a couple's dish because it's meant for two. So romantic!) and a bowl of cold soba noodles. Both really yummy. Sigh, i miss Korean food.

Top: Giant bibimbap
Bottom: Cold soba noodles
Other places we visited in Yeouido (Yoido):
Beautiful Autumn sights in Seoul
Noryangjin Fish Market
Sunday service at Yoido Full Gospel Church