As they say, "strike while the iron is hot!". After ss501 band leader Kim Hyun Joong appeared in the hit drama Boys Before Flowers, his band has been in the spotlight and receiving much attention. All these while ss501 have been pretty popular in Korea and Japan, but rarely ventured to other countries in Asia. With the new publicity garnered, ss501 can now embark on their first Asian tour!
The good news is, fans in Malaysia can expect a ss501 concert in December 2009.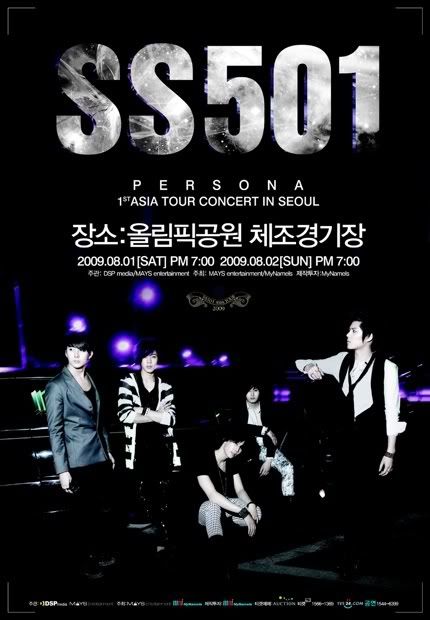 Poster for the Seoul concerts
ss501's will kick off their four month THE 1st ASIA TOUR PERSONA concert in Seoul on Aug 1 & 2. The concert in Seoul will be held at Seoul's Olympic Park Gymnastic Stadium. They will also be performing in Budokan, Tokyo on 13 August. The tour will cover 10 countries which includes Japan, Taiwan, Hong Kong, Thailand, China, Singapore and Malaysia!
ss501 will also be releasing their 2nd album by end of July 2009.
Only recently, it was reported that Kim Hyun Joong has been overworked and very tired. Besides working on their 2nd album, the boys are also working on a "collection album" where each member will have a solo song. Each solo song will be accompanied with a music video. So watch out for this too.
Sources: Joynews, Emily's blog