I've heard a lot about the Tele Cinema Project (텔레시네마). It's time to delve deeper into this and find out more. What is this telecinema project that everyone is talking about?
The "telecinema" project is a Japan-Korea joint production (Japan's Asahi TV and Korea's SBS) where each 120-minute made for TV movies will be aired on television in Korea (via SBS) and in cinemas in Japan. In Korea, they will be aired in two one-hour episodes. Hence, you get the term tele-cinema! Staying true to it being a joint-venture, each installment has a Korean producer and Japanese screenwriter.
It has been reported that there will be a total of ten projects which make up the Telecinema omnibus, and some of them staring famous boy band group members namely TVXQ's Hero Jaejoong, and Big Bang's TOP and Seung-ri. Now, i'm sure you've caught whiff of those! Other famous stars involved are Kang Ji-hwan, Kim Ha-neul, Lee Ji-ah, Ahn Jae-wook, Kang Hye Jung and Daniel Henney.
The Tele Cinema episodes / films will be aired simultaneously in both countries.
The below (though not comprehensive) is a list of projects under the TeleCinema omnibus.

1. Heaven's Postman ( 천국의 우편 배달부 )
Alternative title: Heaven's Mail Deliverer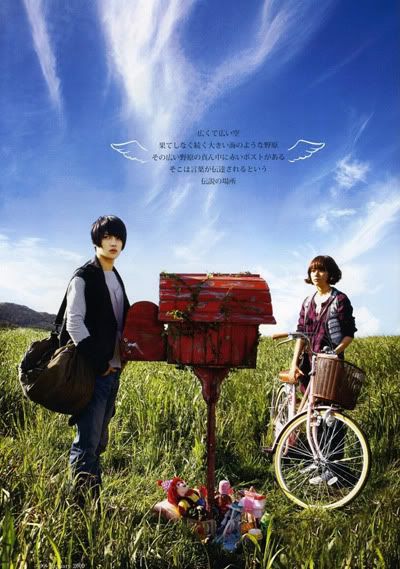 TVXQ's Hero delivers spooky messages in Heaven's Postman
Producer: Lee Hyung Min
Screenwriter: Kitagawa Eriko
A mysterious messenger who has the ability to travel between this world, and the afterworld. Shin Jae Joon was involved in an accident and subsequently went into a coma. Now, his spirit has the ability to travel back and forth between this world and the afterworld. He meets Jo Ha Na as she is trying to send her boyfriend a letter. Ha Na however, is the only person who can see Jae Joon. Eerie.
Cast:
Hero Jaejoong as Shin Jae Joon
Han Hyo Joo as Jo Ha Na
Daniel Henney
Shin Goo
Kim Chang Wan
2. A Dream Comes True ( 돌맹이의 꿈 )
Alternative title: A Stone's Dream
Producer: Jang Yong Woo
Screenwriter: Nakazono Miho
Cast:
Cha In Pyo
Kim Hyo Jin
3. Triangle ( 트라이앵글 )
Alternative titles: Triangle Love, Triangle Bell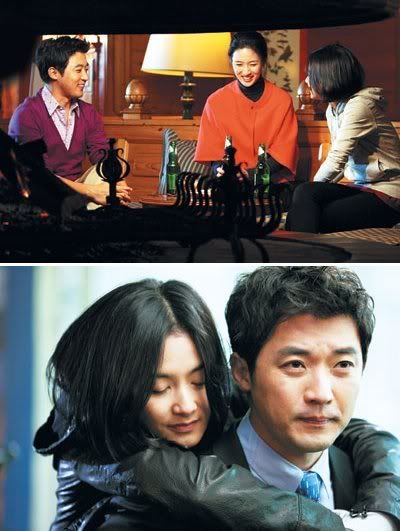 Ahn Jae Wook teams up with
Kang Hye Jung (Tablo's gal) in

Triangle
Producer: Ji Young Soo
Screenwriter: Ozaki Masaya
Cast:
Ahn Jae Wook
Kang Hye Jung
Lee Soo Kyung
4. After Wedding Banquet ( 결혼식후에 )
Alternative title: After The Wedding Ceremony
Producer: Kim Yoon Chul
Screenwriter: Yokota Rie
Cast:
Bae Soo Bin
Shin Sung Woo
5. The Fool That I Love ( 내 사랑 못난이 )
Alternative title: My Love, Ugly Duckling
Producer: Lee Jang Soo
Screenwriter: Ooishi Shizuka
Wang So Jung is an ugly duckling who works in a wildlife magazine department. She meets a pretty boy, however, the man is so visually impaired that he believes that So Jung is a beauty.
Cast:
Lee Ji Ah as Wang So Jung
Kang Ji Hwan
6. Paradise ( 낙원 )
Producer: Lee Jang Soo
Screenwriter: Okada Yoshikazu
Cast:
Kim Ha Neul
Ji Jin Hee
7. 19 Years Old ( 나의 19세 )
Alternative titles: I'm 19, My 19 Years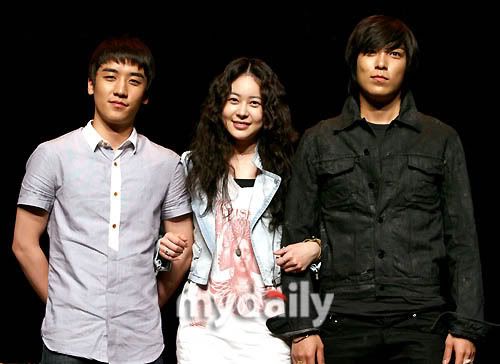 Seung Ri, Heo Yi Jae and TOP in

19
Producer: Hwang In Roe
Screenwriter: Inoue Yumiko
Cha Eun Young helps two teenagers, Seo Jung Hoon and Park Min Seo, investigate homicide cases after the both of them escaped from a police station.
Cast:
Heo Yi Jae as Cha Eun Young
T.O.P as Seo Jung Hoon
Seung Ri as Park Min Seo
I hope they package these movies into DVD format so that the rest of the world get to enjoy them.
Sources:
Dramabeans, Dramawiki