Korean title: 미스터 굿바이
Episodes: 16
Director: Hwang Eui Kyeong
Cast: Ahn Jae Wook, Lee Bo Young, Jo Dong Hyuk, Oh Yoon Ah
What's popping:
This is one of my favourite Korean dramas to date! I rate it right up there with other favourites like My Lovely Sam-soon and yes, the recent phenomenon, Boys Over Flowers. Although Mr Good Bye did not garner high ratings when it was screened in South Korea in 2006 because of popular period drama Jumong, it was one of Ahn Jae Wook's most memorable dramas.

David Yun Hyeon Seo (Ahn Jae Wook) is a hot shot hotelier. He was adopted and now resides in Las Vegas, and works for the prestigious Caesar Group of hotels. He is successful, rich, intelligent and very good at what he does. Because he is so good at downsizing hotels, he has earned the nickname "Mr Good Bye". Hyeon Seo is at the peak of his career and just accomplished the take-over of the prestigious Nikko Hotel. However, before claiming his prize, his boss puts him on a special assignment at Emperor Hotel in Korea for six months.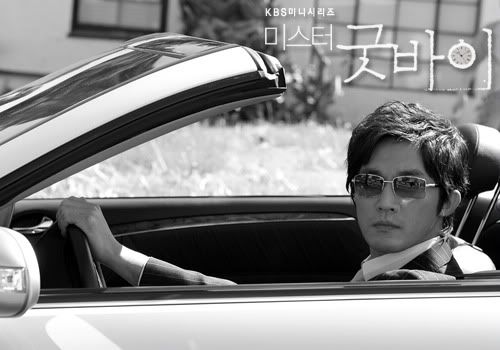 Yun Hyeon Seo – hot shot hotelier.
Ahn Jae Wook doesn't speak English good enough to be a
convincing Korean-American but this is a minor set-back.

Choi Young In (Lee Bo Young) recently got dumped by her boyfriend and travels to Las Vegas alone. She won tickets for the trip via a marathon she took part in. On the plane, she meets fellow Korean Ronny who is Hyeon Seo's younger brother. That was how Young In (28) and Hyeon Seo's (30) fate intertwined. Complete opposites, they hated each other at first but soon a relationship blossoms.

Both Hyeon Seo and Young In finds themselves on the same flight from LA to Seoul. Hyeon Seo, who has a history of heart disease suffered a heart attack on the flight and Young In was the one who practically saved him. Back in Seoul, Hyeon Seo offers Young In a job at Emperor Hotel as a concierge. Desperate for a job, she accepts it, but struggles because she is not qualified. Young In is a trained beautician and has no clue of what it takes to become a concierge and serve guests at a 5-star hotel. She also lacks language skills.
Young In: Damsel in distress. Two men vie for her affections…
In comes the dashing chief concierge Kyle (Jo Dong Hyuk) to the rescue. The steely, mild mannered Kyle of Korean – Japanese parentage offers to teach Young In the ropes with firmness but with love. He is also interested in Young In and is secretly the son of the previous owner of Nikko Hotel. Kyle is very much Hyeon Seo's rival. In fact, he returned to Korea to keep an eye on the very man who caused his father's death and who will eventually take over Nikko.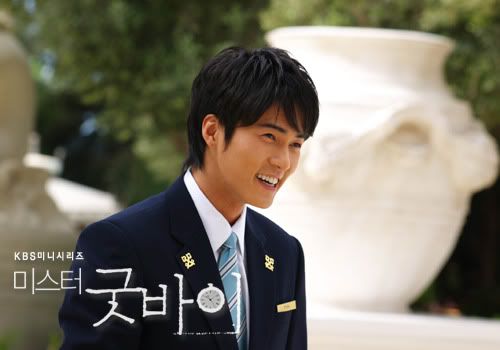 Cheif Concierge Kyle is good looking and seems to be what
every
woman would want in a man. Yet, the girl chooses the
difficult but smooth Hyeon Seo.
Kang Su Jin (Oh Yoon Ah) is Hyeon Seo's best friend, a single mom and a heart surgeon at a local hospital. She is also a member of Korea's leading heart transplant team. Blessed with brains and beauty, she offers Hyeon Seo a place to stay during his six month stint in Korea. She has a seven year-old son named Yoon who is the splitting image of Hyeon Seo. Su Jin seems friendly and harmless at first, but later, she tries to manipulate her way into Hyeon Seo's life.
Kang Su Jin and her cute son Yoon.
Yoon is missing Hyeon Seo – the only father figure he has ever known.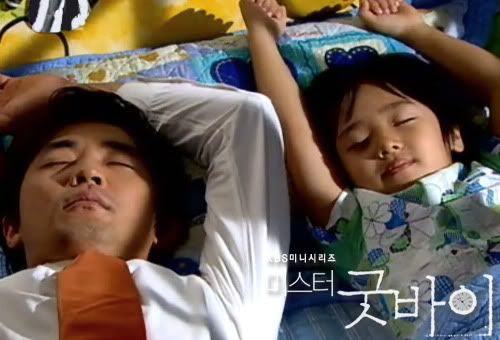 They not only look alike, they even have the same sleeping pose…

Despite Su Jin's advances, Hyeon Seo regards Su Jin as a platonic friend. He only has romantic feelings for Young In. It's heart warming to see how he falls in love with Young In. Hyeon Seo is not an easy man to love. He's stubborn and selfish at times. Young In is bubbly, naive and only knows how to love Hyeon Seo unselfishly. Fending off rumours and finger-pointing from colleagues who thinks her to be a gold digger, Young In shows the guarded Hyeon Seo how to love.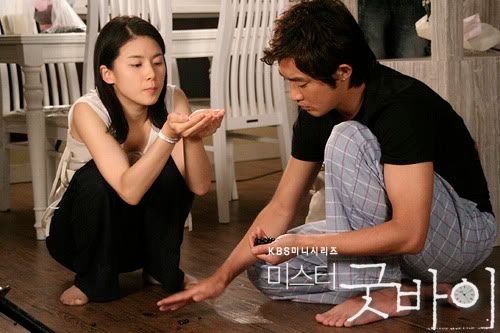 Despite the odds against her, Young In clings on to her love for Hyeon Seo

The plot:

Eligible and successful, Yun Hyeon Seo seems to have it all, a huge comfortable home, flashy car, and at only 30, he is already very accomplished in the hotel business. However, Hyeon Seo suffers from a weak heart and soon finds out that his only chance of survival is to get a heart transplant. Will he survive?
This is fundamentally the story of Yun Hyeon Seo – how he juggles work (lots of hotel politics), love (he meets and falls in love with Young In) and finds his family – a son and his own biological mother.
This is the story of Yun Hyeon Seo, a man who desperately wants to live.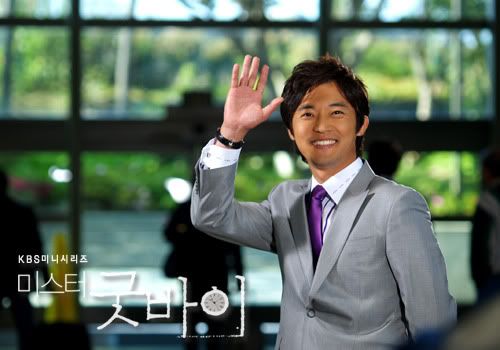 Ahn Jae Wook is Mr Goodbye
Watch it:
One good reason to watch it is Ahn Jae Wook is a very charismatic actor and he wears the nicest tailored suits and matching ties in this drama.
By the way, the drama's soundtrack is really nice too. The opening song is a sexy saxaphone jazz number and the title song Mr Good Bye is an awesome ballad. Sample the OST here.

Get the DVD boxset!