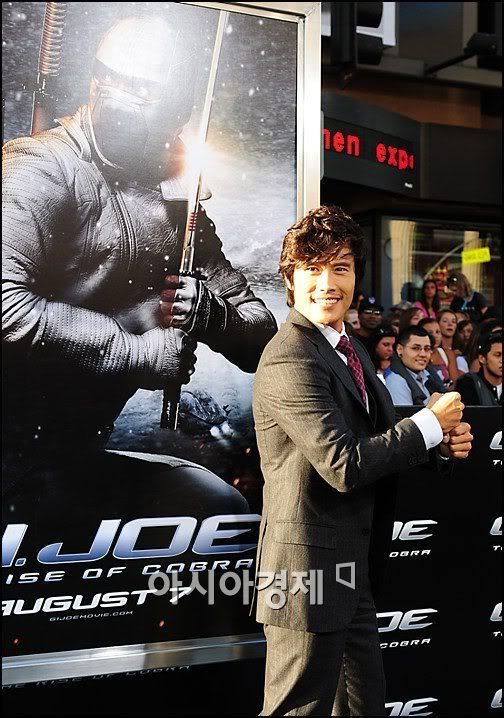 Do I look like Storm Shadow? LBH poses in front of
Grauman's Chinese Theatre, Hollywood, CA.
(6 August, 2009)
Although Lee Byung Hun is popular in Asia, what am i saying – Japanese women practically worships the ground he walks on. Yeah he's THAT popular! Fans in America have just been introduced to Lee Byung Hun for the first time in G.I. Joe: The Rise of Cobra. He plays Storm Shadow – a baddie, in the movie.
Lee Byung Hun fits into the Hollywood role comfortably
Here are some excerpts from Mania.com's interview with the actor who admits the world of Joe vs. Cobra is all new to him.

"It didn't show in Korea. I had no idea about G.I. Joe when I first got the script," Lee said, admitting he was a little hesitant to take the part. "I had a lot of time to discuss the character Storm Shadow with [director] Stephen Sommers and [producer] Lorenzo di Bonaventura."
Lee also revealed that his first friend in Hollywood (that was before he got really chummy with the gorgeous BARONESS Sienna Miller) is Ray Park, the man who plays Snake Eyes in the movie.
"He was my first friend in Hollywood actually," Lee said of Park. "In the movie we are hating each other but in real life we're really good friends. We took a lot of time to practice the choreography and training before the production."
Will Lee be in the next G.I. Joe movies? He confirmed for us that he's signed to play Storm Shadow in additional films if the studio calls for it.
"This was my first try to be a comic book character, so that's why I hesitated a little bit to commit to this production," Lee said, adding that, while high-octane superheroes may be popular in America, this kind of movie is new to him. He's not thinking in terms of the next superhero (or villain) he'll play. "I've doing more realistic characters and projects, so I don't know."
He's already working on his next project in Asia (drama IRIS!), but would consider doing another American film if the right project comes along. We asked him if there's a particular director he's interested in working with.
"There are a lot of good actors and directors in the states I think, but I'd really like to work with director Cameron Crowe. I like his work."
Bonus pics of Sienna Miller (Baroness), Channing Tatum (Duke), Marlon Wayans (Ripcord), Rachel Nichols (Shana 'Scarlett' O'Hara) & Ray Park (Snake Eyes).
Source: Byung Hun Lee talks G.I.JOE
Pics credit: Zimbio, Asia Economy Korea
Also check out:
G.I. Joe: The Rise of the Cobra (2009)
G.I. Joe Rise of Cobra press conference in Seoul
IRIS drama sneak peak
Lee Byung Hun in Japan & Discovery channel