Pixar's new Korean kid on the block
Did you know that the lovable chubby little Russell of Pixar's latest animated masterpiece, UP, is modeled after Korean-American Peter Sohn?
Peter Sohn, 32, is an animator at Pixar and has been working with the studio since 2000. On creating Russell, Sohn said, "The atmosphere here at work is like playing. We draw each other's faces in meetings, and Russell's face was actually my face that someone had drawn. We decided to make the main character of the new film Asian, and naturally I became the model."

In truth, I just really wanted to blog about this movie because I absolutely loved it and would easily call it the best movie I've watched in 2009 (I doubt the rest of 2009 would have anything worth watching anyway). Finding this tidbit is a plus and I can add it to our collection of all things Korean.
The movie just opened in cinemas here in Beijing this month, and being a Pixar fan, I was pushing the kids away to get MY ticket! Har har. However, I think most of the kids in line were there to watch G.I. Joe… which I will be watching too… soon.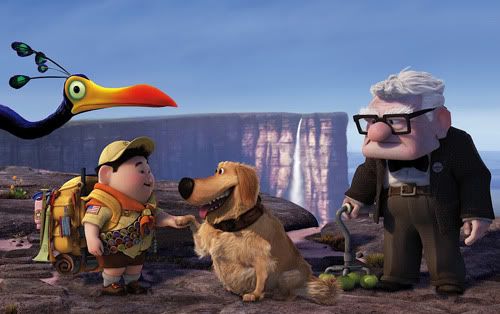 UP is a story about the adventure of an unusual pair – an old man and a school kid. Voiced by child actor, Jordan Nagai, Russell is a boy scout who is determined about assisting the elderly. It is the last task he needs to complete to earn the remaining button that would make him a senior boy scout. He is inadvertently whisked away in a floating house when widower, Carl Fredrickson, decides to realize a life long dream.
The story of UP is so simple, so engaging and universal that one does not become concerned with the unnecessary stereotypes and kitsch that package animated movies (or any other live action movie) today. UP reminded me why I love animated movies.
If you haven't seen it, it's a great movie to kick off the weekend!
Pic Credit: Slashfilm
Source: Chosun Ilbo