I love playing Raizo because he's sexy
Rain (real name Jung Ji-hoon) appears in a fashion spread for ALLURE Korea, December 2009 issue. The Korean World Star appears in his "Ninja Assassin" form. He boasts a very sculptured physique with 0% body fat! How to achieve that? Lots of exercise and a daily diet of boiled chicken breasts says Rain.

Ninja Assassin is currently been screen in cinemas. It's Rain's Hollywood debut (in a lead role). So tell us, what do you think of the movie? Did Rain do well? Was there too much blood? We love to know what you think!
Since New Moon (Twilight Part 2) is also screening in cinemas right now, which would you opt to watch first? Ninja vs Vampire!!!
Although my pants are super tight, i can squat like so…i'm so sexy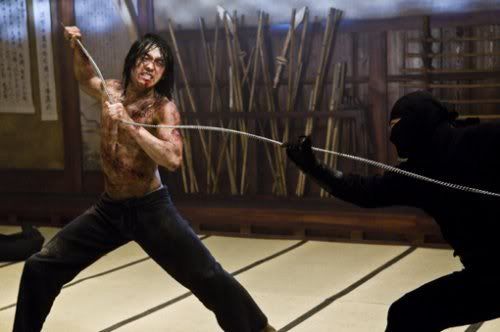 Raizo (all covered in blood and grime) in action
Pics credit: Reviewstar.net, BreakNews
Also check out:
Rain likes portraying Raizo because 'He's very sexy'
Rain promotes Ninja Assassin in Seoul