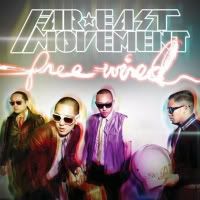 Far*east Movement
Free Wired
[Universal Music]
*** (out of 5 stars)
Far*east Movement (FM) can grow on you.
When it comes to Kpop tracks, I prefer the typical love ballads or contemporary pop. And so when I was handed FM's debut album Free Wired for a review, I disliked the "noisy" songs. They are so different from my staple of syrupy Kpop tracks.
But like in all things, you've gotta give it a chance. After a few listens, I must say FM sure does have some catchy tunes.
Free Wired contains 10 songs that include the quartet's Billboard Hot 100 and iTunes smash hit Like A G6. If you like dance music, then this  electro / hip hop group from Los Angeles has what you want.
Apart from Like A G6, which has been receiving airplay on local radio stations, do check out She Owns The Night (my personal fave), Don't Look Now, White Flag and 2Gether, which reminds me of B52s Love Shack. Isn't that a sample of the 1989 hit song, I hear?
Speaking of familiar sounds, FM's Girls On The Dance Floor also reminds me of Justin Timberlake's SexyBack. Meanwhile, one of the more easy-listening tracks from the album is the second single Rocketeer, featuring Ryan Tedder of One Republic.
Now for the million ringgit question. Why are we reviewing FM? It's because the quartet is made up of two Korean Americans, namely Prohgress and J-Splif. And I think that's enough of a reason for the K-popped! community to check them out ;).
You might also be interested in the Far*east Movement website: www.fareastmovement.com