SNSD, KARA & Big Bang are top K-groups in Japan
Goo Online and NTT DoCoMo Japan conducted a survey from Sept 18 – Oct 2 asking the question: Which South Korean idol group are you interested in?
SNSD, KARA and BIG BANG snagged the top spots, and there were as many as 10 idol groups in contention. As many as 9, 926 fans responded to the survey.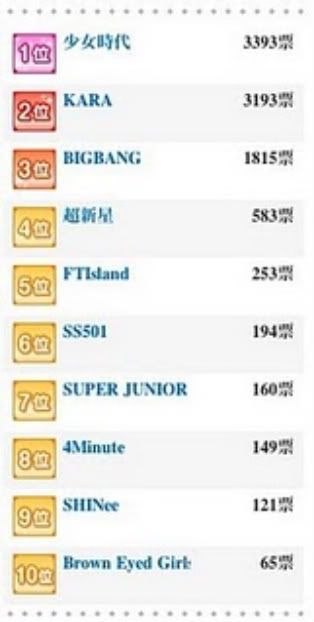 SNSD bagged the numero uno spot thanks to their catchy tunes and long, slender legs. KARA, who became well known because of their butt-shaking dance, weren't far behind at #2, while Big Bang was at #3.
Other idol groups in the poll included Super Junior, F.T Island and SS501.
Credits: ZakZakJapan, Big Bang Updates