Three Kpop acts, one stage. Partayyy!
BEAST, 4Minute and G.Na are all set to rock Stadium Negara on Jan 13, 2011. The artistes are going to share a stage at the highly-anticipated DiGi Live K-pop Party 2011.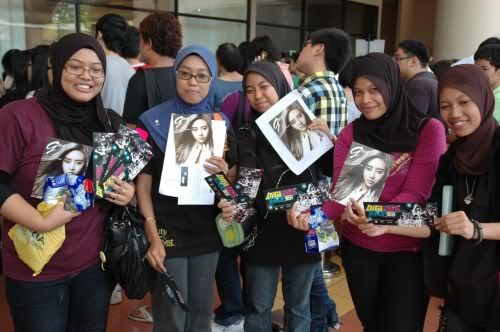 GIRLS JUST WANNA HAVE FUN: 'We're going to the Party, what about you?'
The media launch for the event was held at One Utama, Petaling Jaya on Dec 5 and Kpop fans started lining up for Party passes as early as 5am! On top of that, DiGi (a local mobile service provider) customers who reloaded at least RM30 onto their phones stood a chance to win music merchandise, premiums and special passes to meet the Kpop stars.
Fans were also treated to a live audio crossover with Korean-Canadian singer G.Na who expressed her excitement for the upcoming Party. The 23-year-old said: "I am so happy and honored to be a part of this event. I have a great performance in store for you and look forward to your show of love and support at the party."
Apart from that, 19-year-old Jade Huang Sui Dee from Selangor was announced as the winner of the DiGi Flyaway contest. Jade won an all-expenses paid trip to catch BEAST live in their Welcome to Beast Airline concert on Dec 12 in Seoul.
OFF TO KOREA: Jade Huang (left) is going to watch BEAST live in concert
Passes to DiGi's Live K-pop Party come in DiGi bundled packages valued at RM350, RM200 and RM120. It consists of party passes, a 30-day free trial of DiGiMusic Pluz, mobile content of BEAST, 4Minute and G.Na as well as special discounts on the artistes' albums and official merchandise.
For details, surf to: www.digi.com.my/kpop
[nggallery id=5]