Venturing out of Seoul
South Korea is one of my favourite places to visit! I love the Korean culture, food and of course k-pop entertainment and k-dramas. So you can imagine the excitement when I was given the opportunity to visit Korea on the 7 – 11 December.
It was my first time in Korea during winter. I am glad to be able to experience a "white Christmas" this year. It was also my first time venturing out of the city of Seoul.
Tour guide Julie Hwang took us to Pyeongchang, Jeongseon and Hoengseong in Gangwon Province. The four hour bus ride from Seoul to High1 Resort was worth it as I got to see some of the most beautiful winter scenes in Gangwon Province.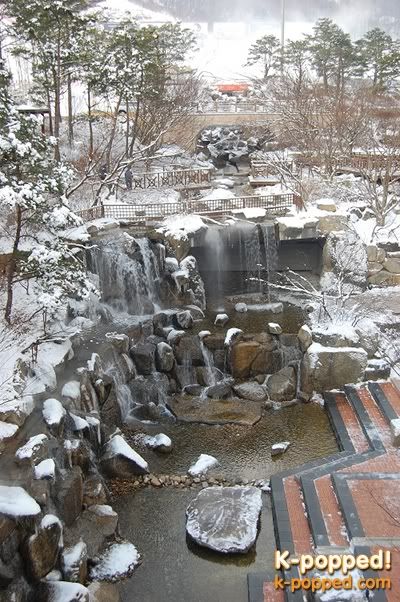 Waterfall at Konjiam Resort
Pyeongchang is located in the Taebaek Mountains region and is the most famous winter sports center in South Korea. This city is bidding to host the 2018 Winter Olympics. Here you will also find a number of famous Buddhist temples. We visited BeobHeungSa Temple on our way to High1 Resort.
BeobHeungSa Temple
Grounds of the BeobHeungSa temple is large and you are well adviced to wear good comfortable footwear while visiting this temple. It takes a good 15-minutes climb to the top of the temple and beautiful trees line the path. You will be rewarded with a scenic view of Lion Mountain at the top.
The friendly caretaker at the temple explained that in "feng shui", the energy level at the temple location is very great. As a result, there are no Buddha's that can live or survive for long periods of time at this temple. It is unusual to note that there are no Buddha statues located at this temple.
The temple visit ended with a Korean Buddhist monk serving us a welcoming hot cup of tea in one of the buildings at BeobHeungSa.
They also offer "temple-stay" vacations at these temples. If you are interested, find out more from your travel agent.
We also stopped by a small restaurant for barbecued pollack and fish soup for lunch on our way to High1 Resort. It started snowing then and we welcomed the soft fluffy white flakes by running outdoors and posing for photographs.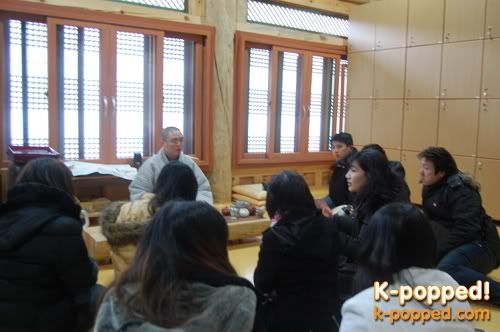 A monk at the temple serves us tea
Ski School at High1 Resort
High1 Resort in Jeongseon is a great vacation spot for families and well known for advanced skiers.
The cavernous lobby and coffee house area gives the resort a luxurious feel. There is also a casino which opens till 6 am.
It was at this resort, that I embarked on my first ever ski lesson. Before our lesson, we stopped at a nearby ski equipment store to rent our ski outfits. This comprises a jacket and matching ski pants. You would have to purchase a pair of ski gloves too. The gloves are so thick they can be mistaken for oven mittens.
Skiing is really more difficult than it looks. During the one hour ski lesson, the handsome Korean ski instructor taught a group of us the basics such as how to stop, to always lean forward (less you fall on your behind) and if you are going too fast and cannot stop, fall down!
On the second day at High1 Resort, we took the scenic gondola ride to the top of the mountain and enjoyed a hot drink at the revolving restaurant 1,340 meters above sea level. The incredible panoramic view on top of the mountain was truly breathtaking.
At the top of High1 mountain
Fine dining at Unamjeong
After working out an appetite at ski school, we dined like royalty at Unamjeong restaurant. The hanok style facade of the restaurant was inspired by the famous comic book artist Hur Young-man. This is also the place where the Korean drama Shigeak (Gourmet) was filmed.
On the menu that night was a very special version of the humble bibimbap. This special bibimbap had fresh raw beef in it. The freshest seafood is also used in the meal's side dishes (banchan). My favourite was the raw oyster banchan. The sumptious meal ended with a Korean favourite, refreshing persimmon punch, topped with pine nuts.
We dined like royalty at Unamjeong Restaurant, High1 Resort
Winter spa experience at Konjiam Resort
On the third day, we soaked our aches away at the outdoor hot pool at Spa la Spa, Konjiam resort. It was truly a wonderful winter-time experience, soaking in a giant outdoor hot tub, and breathing in cool winter air while enjoying the beautiful snow-capped mountain scenery.
The spa also provides several indoor pools with hydromassage jets to rejuvenate and soothe your muscles. After an invigorating massage, we ventured into a huge room called the "Sahara" where you lie on hot stones which will improve your blood circulation. Next, move on to "Hay", a room filled with dry, sweet-smelling hay for relaxation.
It cost KRW20,000 for a day-in visit to the spa and you can rent a bathing suit and buy a swim cap. Here's a tip for foreigners (like me) who are not used to baring all in front of strangers. You can rent a bath towel for KRW2,000. Locals usually do not bother with this.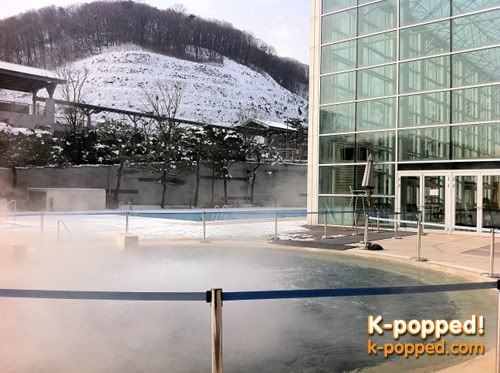 Outdoor hot tub at the Spa La Spa, Konjiam Resort
Jeonggajib Kimchi Factory
On the way back to Seoul, we stopped by Jeonggajip kimchi factory in Hoengseong. Here, we donned aprons, a shower cap and gloves and had a hand in preparing spicy cabbage kimchi! It was a fabulous experience as we were also given a tour of the kimchi factory.
Making our own kimchi!
Everyone was so excited, we needed to take a pic first before putting on our gloves
Although we were not allowed to take any photographs, the guide at the factory explained that the kimchi factory plants its own cabbages to ensure the high quality of the product. Then she explained that it takes 24-hours for the cabbages to go through the proper cleaning and washing of sea water to salt the cabbages.
We were then taken to an observation chamber where we could view the workers in the factory working. The factory is very strict about the workers' hygiene to ensure cleanliness. Some were preparing the kimchi sauce (tons of it!) while others were stuffing the sauce into the cabbages, and others packing the kimchi.
Once packed, the kimchi is stored in a large room with stabilized temperature so that it would produce good quality kimchi.
The factory we visited produces kimchi for export while another Jeonggajib kimchi factory produces kimchi for local consumption. The kimchi factory also sells packaged salted cabbages, ready for Korean housewives to use with their own special home-made sauce.
I had a great time experiencing Korea in winter and would highly recommend it to anyone!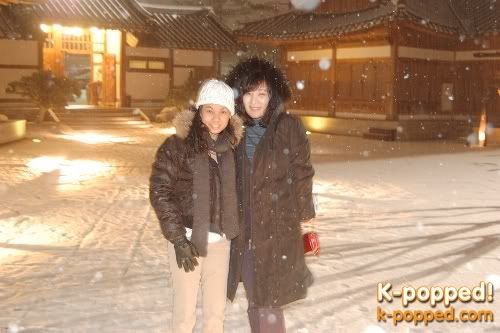 Tour guide Julie Hwang and i
Visit to Korea courtesy of Korea Tourism Organization (KTO) Malaysia.
View more photos in our Facebook Photo Album