Photos by Siti Nur Fatehah & Valerie

They kept the promise of returning to Malaysia for a concert! JYP's Wonder Girls (WG), who performed at the MTV World Stage in July, held their own concert at the Arena of Stars in Genting Highlands on Dec 11.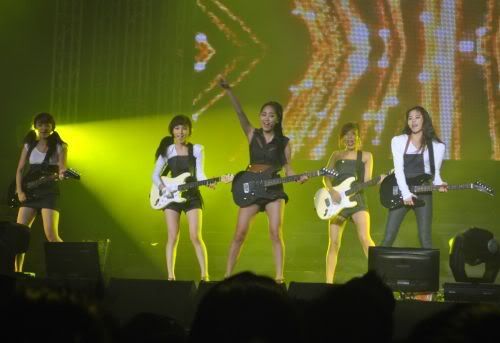 APA KHABAR, MALAYSIA?: 'We're baaack, and here to rock ya!'
WG – which comprises of Min Sunye (Sun), Kim Yubin, Park Yeeun (Yenny), Ahn Sohee and Woo Hyerim – became a household name due to their smash hit Nobody. And so it was no surprise that the crowd at the girls' concert ranged from small kids to their parents, and even fans in their 50s!
By 8pm, the concert arena was almost filled to its fullest capacity. In fact, Wonderfuls (fans) clad in purple (WG's official color) were already at the venue at around 6:30pm. They came equipped with support banners as well as pearl burgundy glow sticks and balloons.
RAH, RAH, RAH!: The girls having a fun-tastic time on stage
The opening acts for the night were Lau Wan Yin – Champion of the 2008 International Hokkien Singing Competition, Iz Sulaini – who impressed with his nifty power dance moves and Henley Hii of Project Superstar 2 fame.
After they performed, an introductory video of WG was shown. The crowd roared. The excitement escalated when the concert kicked off with a brief dance intro. After that, WG launched into So Hot.
A TREAT: The Wonder Girls perform live in Malaysia
Throughout the night, the quintet was a pleasure to watch. They were charming and when they spoke, it was in fluent English, which is such a refreshing change from the many other Kpop acts that have performed here. Of course, the girls also used crowd-pleasing phrases such as Apa khabar? and Terima kasih.
WG performed some 20 over songs, and they included hit tracks such as Irony and 2 Different Tears. When the girls sang their hit single Nobody, the crowd went wild. The girls belted out three different versions of the song – the English acoustic version, a rock version and a combo version (in Korean, English and Mandarin) during their encore performance.
WG lit up the stage as a quintet, but their individual stars shone even brighter during their solo performances. The group's leader, Sun showcased her vocal prowess with an inspiring rendition of Josh Groban's You Raised Me Up. She also looked exquisite in her white dress.
INSPIRING: Sun shines (sic) during her solo performance
Yenny, also a lead vocalist, tinkled the ivories beautifully before launching into an upbeat version of Pussycat Dolls' Tainted Love. Meanwhile, fiery redhead Yubin belted out Pink's So What with the right amount of attitude and spunk.
The youngest member, Hyerim was adorable with her "gangsta" performance of Lil Mama's Lip Gloss, while Sohee was a delight to watch as she shook and shimmied to Beyonce's Single Ladies. This young lady has sure grown up!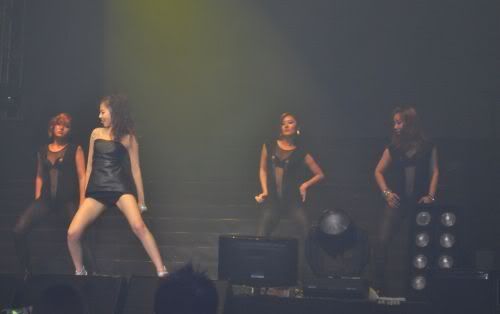 SEXY: Sohee (2nd from left) shakes 'em hips
The energy in the arena hit the roof when WG stepped off stage to mingle with fans in the VIP and rock pit sections. However, for one very lucky fan, the highlight of the night was when he was singled out and invited on stage to join the girls.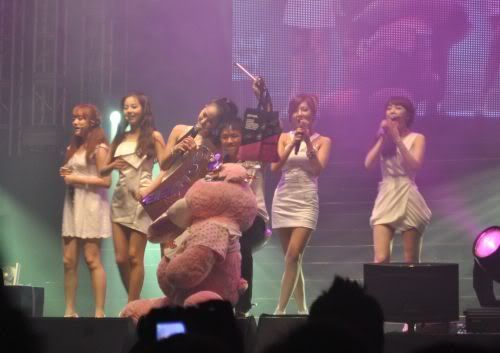 LUCKY: 'Eat your heart out, you other Wonderfuls!'
The guy, who was a Sohee fan, was serenaded with Saying I Love You. He then had the opportunity to take a group photo with WG and received a giant pink teddy bear and roses, much to the envy of the other (especially male) Wonderfuls.
MAKE! SOME! NOISE!: Yenny gets the support of her fans
WG continued with more of their songs before closing the show with Tell Me, another hit that got the crowd singing along at the chorus. The quintet then appeared in dazzling red dresses for the encore.
DAZZLING: 'We are the Wonder Girls.' (l-r: Sohee, Yenny, Yubin, Sun & Hyerim)
When WG finally said their thank yous and goodbyes, they only left fans wanting for more. So here's hoping WG will fulfill their promise of returning for another show soon.
For those of you who were there on Dec 11, I'm pretty sure you had a Wonderful night too!