Happy New Year, everyone!
What's your resolution for 2011? Dare to dream high? Well, here's good news for you! Get ready to be glued to the screen for a highly anticipated Korean soap, Dream High (드림하이) .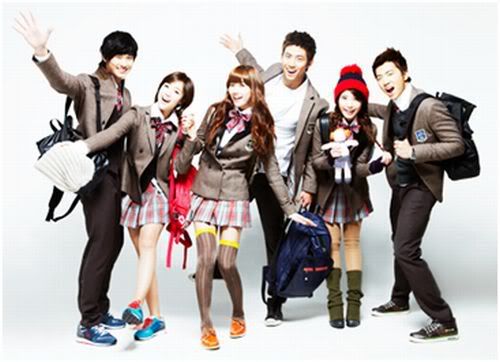 DREAM HIGH WITH US: (l-r) Kim Soo-Hyun, Eun-Jung of  T-ara, Suzy from Miss A, Taecyeon of 2PM, IU & Wooyoung from 2PM.
Dream High, a Yonsama – JYP's brainchild, is set to meet K-Pop die-hard fans beginning Jan 3 on KBS 2TV in South Korea.
Will Dream High repeat the success of 2009's Boys Over Flowers (꽃보다 남자) and 2010's The Slave Hunters (추노) and Bread, Love and Dreams: Kim Takgu (제빵왕 김탁구)?
With a cast of top K-pop stars and Hallyu heavyweights — Bae Yong-joon and Park Jin-young — as producers, there's no doubt that this excellent recipe will give the drama a popularity and ratings boost!
The drama is a coming-of-age story about youths from all walks of life who aspire to be TV stars. The story revolves around high school teens at an arts and entertainment school called Kirin Art School, where future artists and entertainers are cultivated. The series focuses on how these aspiring young actors mature as they face challenges in their struggle to pursue their dreams. What gives this drama oomph(!) is the singing, dancing and peek into the goings-on in the Korean entertainment industry.
On Dec 27, 2010, a Dream High press conference was held at Ilsan KINTEX where producers Bae Yong-joon and Park Jin-young shared their thoughts on the project. The PC drew about 300 journalists and 500 foreign fans, mainly from Japan, Hong Kong and Taiwan.
Hallyu star Bae Yong-joon (Winter Sonata), who is the creative producer, provided the drama's overall concept, goals and ideas. Apart from being the producer, the 38 year old also guest-stars as Jeong Ha-myeong, the art school's Chairman of the board.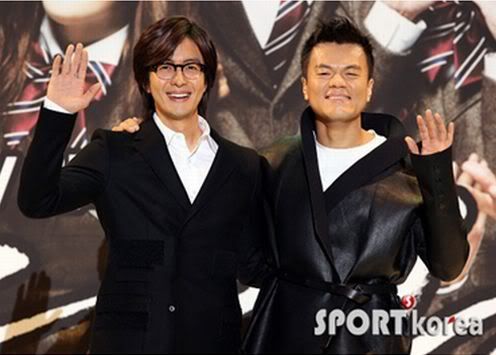 HALLYU HEAVYWEIGHTS: Don't you know us? Shame on you! We're the MIB
According to Bae (pic above, left), he has always been interested in youth education and dreams of establishing a school someday for entertainers-to-be. He later learned that Park Jin-young a.k.a The Asiansoul shared the same vision so both of them decided to team up for this project.
He said: "Our drama is centred on children who dream of becoming the all-time best stars. We aim to show their dreams and hopes through this drama."
Park Jin-Young (pic above, right), better known as JYP — president of JYP Entertainment, is the music director and choreographer for the drama. In addition to directing music and dance, he also portrays a part-time English teacher at Kirin Art School. Don't we all look forward to that?
JYP produced 10 original tracks and composed six new songs for the drama. He tried to make the songs and dance trendy to reflect current pop culture. Known for his Midas touch when it comes to producing Kpop music, JYP is a rookie actor and nervous about his debut in the drama.
He said, "Rain and Taecyeon (of 2PM) are my acting instructors and it was hard to accept that I fell behind the people I taught at first."
The two Hallyu heavyweights even share a vision of opening a real school like Kirin Art School in the future.
"We are of the same age and talked about the school on private occasions," said JYP, who turns 39 on Jan 13. "We have the same dream and I have found a good friend through this drama."
Dream High, a 16-episode drama, stars 2PM's Taecyeon and Wooyoung, T-ara's Eun-Jung, Miss A's Suzy, Kim Soo-Hyun, Um Ki-Joon and Lee Yun-Ji.
For Malaysian fans, let us all keep our fingers crossed for its premier on KBS World soon. Cheers 2011!
Pics credit: Korea Times & Sport Korea
Sources: Korea Times, Korea Herald & Allkpop