Review: DiGi Live K-pop Party 2011 in Malaysia
Words by Liz K-popped
It was the talk of the town! Three Kpop artists, one stage. The DiGi Live K-pop Party, which was exclusively for DiGi customers, was touted as the Kpop event of 2011.
Co-organized by Universal Music, the cool line-up of Cube Entertainment artists was no big surprise, but the shocker came when the highly-anticipated party ended a little too early.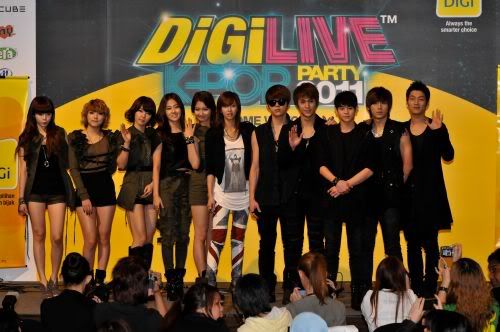 WANNA PARTY?: 4Minute (left), G.NA (center) and BEAST invite fans in Malaysia to partayyy!
The promise of back-to-back performances by G.NA, 4Minute and B2ST was enough to get Kpop music lovers excited, but instead of being treated to an out-of-this-world "concert", the 3,000-strong crowd experienced what felt more like a combo of three mini showcases. Nonetheless, it was still great that Kpop music got to reign at Stadium Negara on Jan 13.
Play G.NA
Up and coming soloist G.NA appeared on stage at 8:30pm and kicked things off with I Will Get Lost, You Go Your Way. The appreciative crowd screamed even louder when Joon Hyung of B2ST appeared for a brief rap solo during the song.
MOVE OVER THERE: 'Can you please stop hogging the limelight, Joon Hyung?'
After the first track, the Canadian songbird greeted and interacted with the audience in English before covering Rihanna's Take a Bow. Clearly a little nervous, the 23-year-old forgot the lyrics at one point, and apologized right after. Kpop fans have always been a supportive bunch, so all was forgiven and G.NA was cheered on.
SHINE, BABY, SHINE: 'Now this is more like it. Spotlight's on me, baybeh'
The lass came back strong with a sassy performance of Supa Solo. And with that, G.NA's 15-minute set came to an end.
4Minute time out
Fanboys rejoiced when the sexy 4Minute girls burst on stage singing HUH. They then launched into I, My, Me, Mine. As usual, standing out from the rest was erstwhile Wonder Girl, Hyuna.
SHAKE, SHIMMY, SHAKE: 'We're gonna break it on down like this, huh.'
During 4Minute's interview, the girls said: "Nasi lemak and Malaysia are BAGUS! (good)", to the delight of fans. They then sang Highlight followed by Muzik with Hyuna burning up the stage with her sexy moves.
SMOKIN HAWT: Hyuna mesmerizes the crowd with her…er, slim thighs
The quintet ended their sizzling set with Hot Issue, and fanboys were seen scraping their jaws off the ground as the girls sashayed off the stage.
B2ST night out
B2ST may be one man short, but the group was undoubtedly the star of the night. The boys – minus Gi Kwang who was filming the drama My Princess back in South Korea – made their grand entrance with Special. It was then followed by a powerful performance of Soom.
SO BEAST!: 'Before we start, Doo Joon has an itch behind his ear that needs a scratch.'
During the interview session, maknae Dong Woon told fans – in halting English – that absent member Gi Kwang misses Malaysia. The crowd went ballistic.
The party continued with B2ST putting on an electrifying Shock performance before cooling things down with Oasis. All too soon, the lads announced their final song(!), Beautiful. Bummer. What an anti-climax, especially after the rousing Soom and Shock performances. Beautiful, which is one of B2ST's newer tracks, lacked the oomph of an end-of-party-so-let's-bring-the-house-down finale.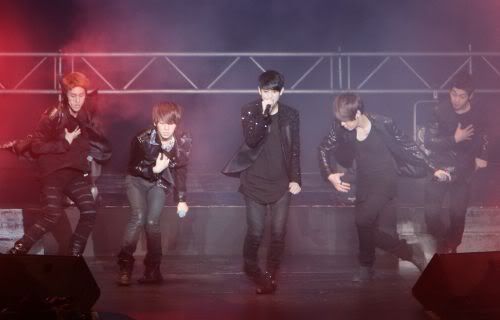 INCOMPLETE: 'Can't you tell? Our hearts are breaking because Gi Kwang isn't here.'
After the lights went down, B2ST teased the crowd asking, "Do you want more?"
To piercing screams, the boys exploded on stage again with an unplanned encore, and bade fans farewell with V.I.U.
HAVING FUN: Dong Woon shows us his baseball pitcher stance
The realization that the K-pop Party had really ended only sunk in when all the artists trooped on stage for a final bow. Oh dear, no Mystery? Bad Girl? Easy? A quick glance at the watch showed that it was 9:35pm. A quick glance at the crowd showed surprised faces.
TATA: Goodbye and good night!
Yes, it was rather disappointing that the Party ended early. In fact, B2ST's showcase in Malaysia on June 26 last year was a more satisfying shindig than this Party. But then again, the Party gave fans a rare opportunity to watch three Korean acts live in action.
Call it what you want: Party or combo mini-showcase, we'll take it as long as it's Kpop!
Pics: Official photos by DiGi