Hip hop duo Simon D and E-Sens
Supreme Team is a Korean hip-hop duo consisting of Simon D (a.k.a Ssam Di) and E-Sens. The duo debuted in 2009 with their EP entitled "Supreme Team Guide To Excellent Adventure". The EP featured many well known names in the industry such as Yoon Mi Rae and Dynamic Duo.
Dubbed as the Korean "Eminem", Supreme Team's leader Simon D is a proud Busan man and even prouder of his accent. He portrayed himself as rather rebellious person and speak his mind freely in shows that he appeared in. Currently Simon D is appearing in KBS' variety show "Oh! My School".
In March 2010, they appeared with their first full length album "Supremier". The album consisted of 14 songs with "Step Up" as the title song. Three months later, Supreme Team came up with another EP entitled "Spin Off". The song "땡땡땡"(Daeng Daeng Daeng) did quite well in the local music shows.
As bonus, here's  "Then Then Then" (그땐그땐그땐), taken from "Ames Room", a special collaboration EP of Supreme Team and Brown Eyed Soul's Yeongjun.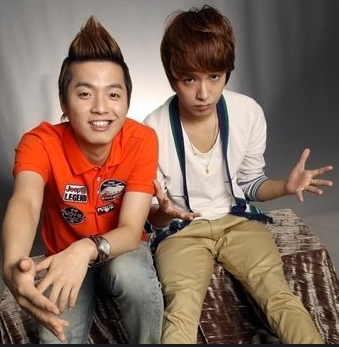 Check out our MV, you won't regret it…
땡땡땡(Dang Dang Dang)
그땐그땐그땐 (Then Then Then)