So you've seen the TV ad and heard Rain's plug on the local airwaves.
Uh huh, you're not dreaming. Korean sensation Rain (a.k.a Jung Jihoon) is set to headline the after race concert at the Sepang International Circuit on April 10 (Sunday)!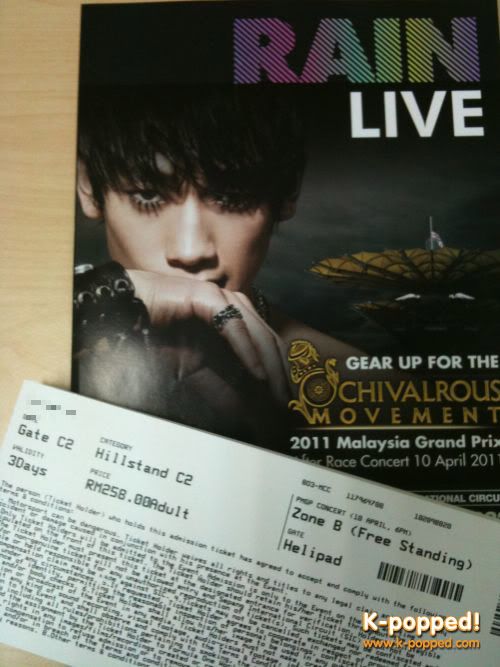 SECOND TIME: Rain performs live in Malaysia for the 2nd time. He was here for his Rain's Coming tour back in 2007.
The burning question now is "How do I get tickets?" First of all, no, you can't buy tickets to the concert on its own. The concert pass is actually bundled with the ticket to the F1 race.
Got dough to blow? Then go for the K1 or F series of tickets at RM600 and RM400 a pop respectively. These babies get you to the Grandstand to watch the race and Zone A of the concert venue (see layout below).
Alternatively, you can also get the RM258 tickets, which will get you to the C2 Covered Hillstand for some F1 action and Zone B for some kimchi action.
The cheapest bundled tickets are at RM198. You will be able to watch fast cars at the C1, C3 & K2 Hillstand and hop into Zone C for Rain's show.
Your tickets are valid for three days: April 8 (practice round), April 9 (qualifying round) and April 10 (race day + Rain's concert).
Each ticket will be charged a RM3 processing fee.
Also, if you plan to drive to Sepang for the event, do get a parking pass (at RM50 except zone PA1, which is RM100) that is valid for all three days.
PARKING PASS: You won't get to park near the Sepang International Circuit without a pass
For more information, visit one of the ticket counters at various shopping malls. Hit this link for details. See you there!
PIT STOP: Make your way to a booth to get your tickets!
Surfing: http://www.sepangcircuit.com.my/