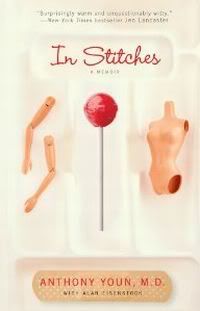 In Stitches
Anthony Youn M.D.
ISBN: 978-1-4516-0844-1
**** out of 5
Boobs. The memoir kicks off with a prologue on mammaries. We are not talking about bee-sting breasts, but bazooka-like Double Ds much like Pam Anderson's…but on a 14 year old boy! Yep, it looks like plastic surgeon Dr. Anthony Youn has a severe case of man boobs on his hands.
This – along with many other interesting and hilarious stories – makes up his memoir, his book of moments: In Stitches.
In the unputdownable book, Dr. Youn candidly shares his journey into the world of nipping and tucking.
The doctor talks about his awkward adolescent years where we see him struggling with a jaw that seemed to have a life of its own.
On top of that, Dr. Youn also shares about his rough, tough and horny years in med school, as well as the pivotal event that made him choose plastic surgery. His college days were sexually frustrating, no thanks to his bad luck with women; and the extremely long hours of study and bad diet did not help either.
We also get a peek into the doctor's strict Korean upbringing. Well, suffice to say that things were not easy when Daddy was an ob-gyn who expected nothing less than straight As and your acceptance into med school.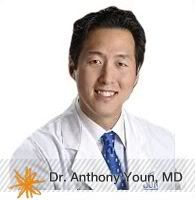 It gets even more interesting when the doctor writes about his days on clinical rotation – a time when med students got to experience the various kinds of medicine. Weird patients, tough as nails interns, heart-wrenching cases, and funny moments ensued before the doctor finally found his true medical calling.
Then, there are the series of events that led to the med student kick starting his residency, and subsequently, his medical career.
In Stitches is without a doubt an engaging read. Laced with self-depreciating humor, this honest and sincere memoir is a page turner. Like its namesake, parts of the book will keep you in stitches while other parts of it…will warm the cockles of your heart.
Highly recommended.