Jang Keun Suk – THE CRI SHOW LIVE IN MALAYSIA
Sukkie showed his fans the time of their lives
"Malaysian fans make me crazy, high and hot", says the versatile Korean performer. Jang Keun Suk performed for his fans at Plenary Hall, Kuala Lumpur Convention Center on 4th June 2011.
It was his very first visit to Malaysia and the 24 year-old confessed that what seemingly started off as a "small show", turned out to be such a great experience for himself. He was overwhelmed by the show of love from his Malaysian fans and his experience here brought back fond memories of his very first fan meeting in Japan.
Earlier, the star met up with more than 500 VIP and VVIP fans showing them an awesome time and exhibited top notch fan service at a special fan signing and photo session.
The CRI Show differs from the rest because the 24 year-old talent portrayed different characters through-out the night and showed us his versatility as an entertainer. He performed a total of 10 songs in the two-part show which lasted a good two and a half hours. Definitely giving fans a huge dose of Jang Keun Suk.
He charmed his fans with his witty and down-to-earth personality, serenaded them with his love ballads and transported the crowd to party at Lounge H with DJ Big Brother (Kurt Jung).
Introducing the singer Jang Keun Suk
Jang searches for his fiance among the mostly Malaysian fans in the crowd
The CRI Show Live in Malaysia started in good time and Jang Keun Suk came on stage in a dapper suit singing Let Me Cry and Oh My Darling (오 마이 달링).
MC for the night Owen Yap and an interpreter appeared on stage for the short chat sessions with Jang. However, Jang who is fluent in both English and Japanese only needed the interpreter when he wanted to express himself better by using his native Korean.
The entire Part 1 of the show had Jang performing his songs with short intermittent breaks for interview sessions and a Q&A game.
In the first chat session, Jang Keun Suk thanked his fans for making his debut album "Let Me Cry" so successful. The album has sold 17,000 copies so far.
He also told fans that he is currently in the midst of filming a movie You're My Pet back in Seoul. "It's still very cold back in Korea, but it's hot here in Malaysia." says Jang.
When asked, why does he call the show "The CRI (pronounced "cree") Show"? Jang explains, "Cri is an abbreviation of the word critical. I just love to use the word CRI and want to show the critical side of myself, for my EELS (fans) all over the world."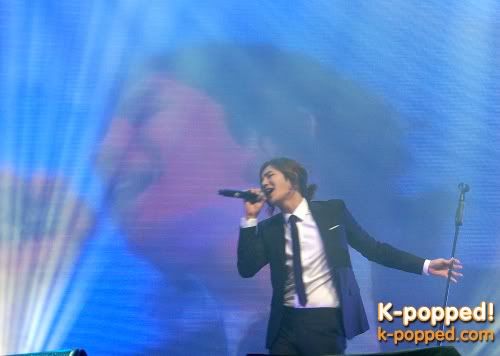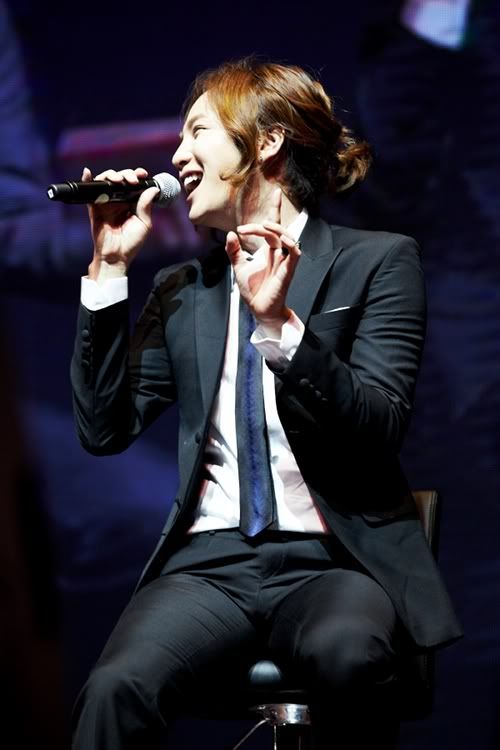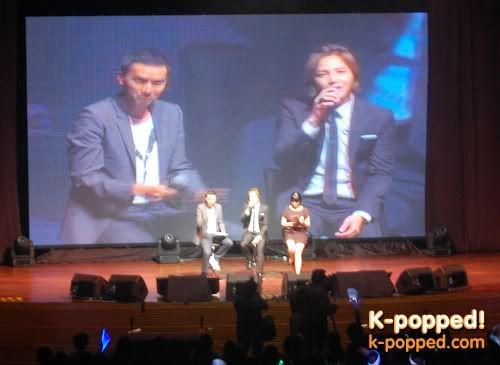 Local MC Owen Yap impressed Jang with his Hangul-mal
J Diary & J in Europe
Fans were given a sneak preview of Jang's 45-minute short movie of himself in Europe. J Diary is an artistic short movie that shows details of the emotions he feels when he is looking for love. It definitely shows off the romantic side of JKS, and fans get a good 45-minute of screen time alone, with Jang. The film was shot in various parts of Europe like Budapest, Belgium and United Kingdom.
Next, they show a couple of stills of J in Europe and fans scream with excitement. In one particular shot where Jang was on a bicycle wearing a red suit, he commented "People in Europe saw this and thought I was gay. Don't worry, it's just the concept. I'm straight." Oh, thank God for that!
When asked by MC Owen Yap to name the best place to visit in South Korea, Jang replies "Han River, Insadong and my home, my bed, my kitchen…living room". The star would love for his fans to get to know him more.
Sukkie talking about fun times in Europe
Marry Me, Mary – Kang Mu Kyul
In the next session, Jang dressed in an Indie rock outfit and sang songs from the drama Marry Me, Mary (Mary Was Out All Night). He sang My Bus (부탁해) and Hello Hello.
Jang is very similar to his character in the drama because he would like to be free and easy like Kang Mu Kyul.
Do you want to get married as early as Kang Mu Kyul? His answer, is "Yes, I want to get married as early as possible."
When asked which type of women he likes, Jang says he likes feminine girls – like Mary (instead of Mina in the drama).
And to the question "Are you going out with Park Shin Hye in real life?" he replies, "Honestly, I did go out with Park Shin Hye, in just the drama." Jang is such a tease and his fans totally enjoyed the interview session.
You're Beautiful
After taking the audience down memory lane by showing video clips of the drama You're Beautiful, Jang appears on stage with "apple" hair, a dark coloured shirt and tailored pants, portraying the arrogant Hwang Tae Kyung.
This is when they selected three lucky fans for the YOU ARE SO BEAUTIFUL GIRL Q&A session. To be fair, Owen and Jang drew ticket stubbs out of a box to pick the girls. Those who answered the questions correctly, were given special souvenirs of Hwang Tae Kyung.
Jang also reveals his favourite hairstyle to his fans. He favours his longer hairstyles, right fitting pants and eyeliner!
I liked the part where Owen Yap says "This is the end for me, my script ends here. Are you sure you will be able to handle it from here." In typical Hwang Tae Kyung manner, Jang replies curtly "Yes, no problem."
Jang then sings Still (여전히) to mark the end of Part I of the show.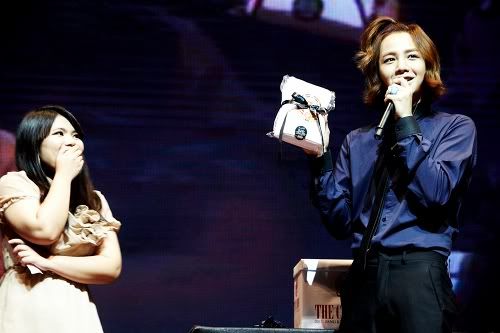 Part II : The Night of Jang Keun Suk
What happened in Part II of Jang Keun Suk's The Cri Show was totally unexpected for me – a JKS n00b. Jang showed off his versatility by exploding on-stage, clad in white skin-tight pants, matching zipped up white leather jacket with hair tied back in a slick pony tail, dancing and rapping to Team H's electro-house music. The typical Korean fan meet atmosphere changed into party mode. The stage came alive with laser lights and the crowd was transported to Lounge H.
On stage with Jang was his effing partner in crime, DJ Big Brother (Kurt Jung). The pair started off with Seungriharira (승리하리라), the Lounge H theme song and followed with Gotta Getcha and Shake It.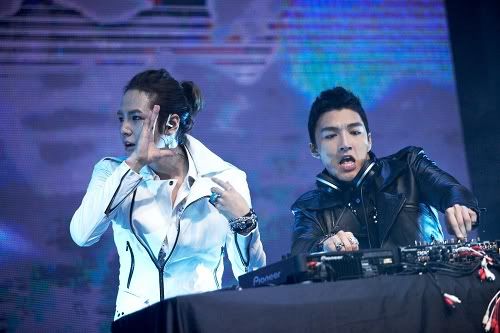 It's party time with Team H
Big Brother was manning the DJ station, spinning and scratching the turntable while Jang woed the crowd with his dancing and cheeky antics.
At one point, Jang borrowed a crew's flashlight and used it to shine at his fans like a search light, placing it close to the side of his head. He also poured water on himself and wiped it off with a fresh white towel – much to the screaming fans' delight.
Team H actually consists of seven members, inclusive of Big Brother (BB) and Jang Keun Suk (fondly known as Sukkie to his beloved fans). H here stands for Hanyang University as they are students from the university. They come together, each bringing their own experties to organize parties and events – under the brand name Lounge H.
Jang asked his fans to wait patiently for the Team H debut album which will be released soon (as promised by Big Brother).
After the wild party, both Jang and BB disappeared back-stage and a background story of The Cri Show video clip was played on the giant screen.
Hot & macho as I am, I still like using a straw…
Message From The Heart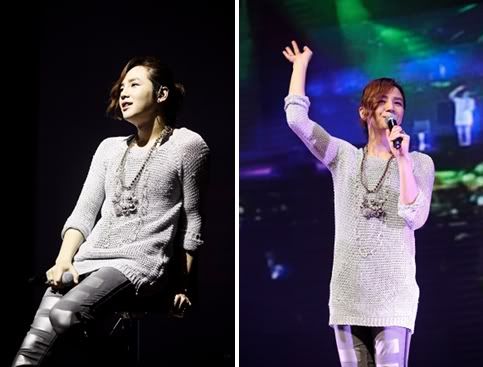 "I nearly killed myself backstage" said Jang when he reappeared shortly after, dressed in a body hugging shimmering knit top.
Sitting on a high stool, Jang then proceeded to deliver a heartfelt monologue to his beloved Malaysian EELS (fans).
"This is my first time in Malaysia. Although the stage is small, I had a lot of fun tonight. You fans made the show bigger. Thank you so much for being here with me.

This show reminds me of my first fan meeting in Japan. Although it started small, you all made it big. I am big in Asia because of you.

This show in Malaysia brings back fond memories of my first fan meeting and I really appreciate it.

Tonight I found out why I can never get any rest. Till I die, I'll never stop and I hope you guys will be there for me.

Thank you Malaysia. Thank you so much. We can meet again next time right?

Wherever you go if you wait for me, I'll be there.

You guys are my precious. My Precious

I'll never stop. See you soon!"
Jang proceeded to sing one of his favourite songs "My Precious" after that heart-warming farewell message.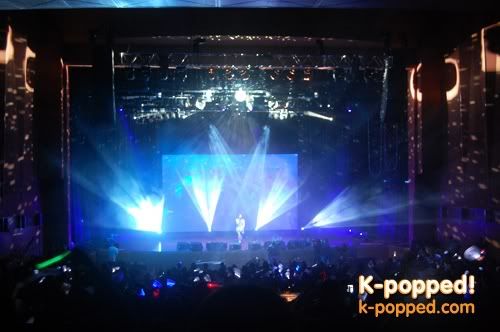 As an encore, Jang appeared in his I ♡ Fan tee (a response to I ♡ JKS tees his fans wear) and sang "Promise".
The CRI Show ended with a burst of streamers and Jang waved his final good-bye saying "I love you from my heart…"
Additional photos courtesy of RhythmLand