It was a lovely night for KissMes on June 10, 2011. The night sky was clear and the fans got to flirt with their idols, U-KISS.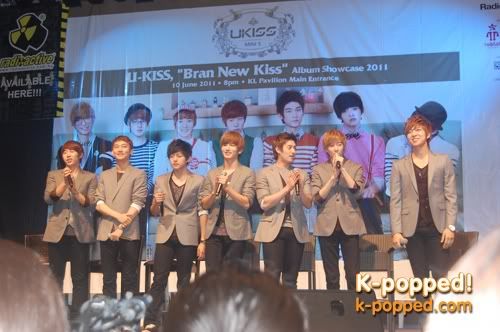 U-KISS: (l-r) Hoon, AJ, Dongho, Kiseop, Eli, Kevin & Soo Hyun
The septet from South Korea was in Malaysia for the second year in a row and lucky KissMes got to hold their hands and give them big bear hugs.
U-KISS – made up of Soo Hyun, Kiseop, Eli, Kevin, Hoon, AJ & Dongho – certainly lit up the open-air venue of their Bran New Kiss showcase at Pavilion, Kuala Lumpur.
Kiss Mes & U-KISS
After strutting on stage to screaming fans, U-KISS talked about the Malaysian foods they like, citing satay and nasi goreng as some of their faves. Apparently, the boys dig spicy food. After the brief chit-chat session, it was time for games with KissMes.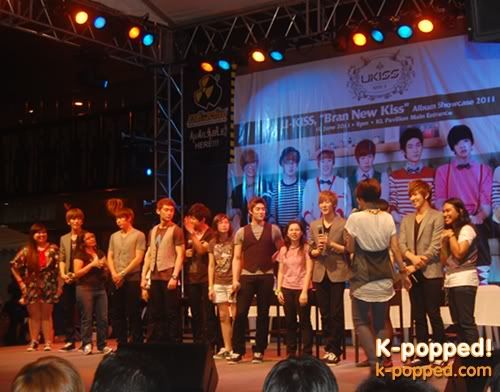 MY U-KISS BOY & I: KissMes who walked away with treasured memories.
Fans singled out by U-KISS got the opportunity to go onstage and ask the member who selected her to do something.
CHOOSE: To choose a girl, you'll need to pick the one with the most attractive…handwriting 😛
Eli, who speaks English, Korean and Mandarin, was asked by his fan to say "I love you". The young lady was beside herself when Eli held her hand and dramatically declared his love for her.
The KissMes who were invited on stage walked away with an autographed poster of the boys…and treasured memories.
HAPPY: 'Man, this game is fun. Let's do another round of this!'
The second game of the night saw selected KissMes dancing to the group's hit tracks Man Man Ha Ni and Bingeul Bingeul. U-KISS acted as judges for the Best Dance, and a fan named Joy got a Polaroid photo taken with the group.
Surprise! Surprise!
As always, Kpop fans are a passionate bunch and they'd go to great lengths to show their adoration for the artists.
Since maknae Dongho (17) and new member AJ (20) celebrate their birthdays in June, the fans prepared a cake and gifts for the boys. The crowd sang Happy Birthday to them in both English and Korean.
BIRTHDAY BOYS: 'Whoa, you baked this cake for us? Awesome possum!'
Before blowing the candles out, Dongho made a wish and it was "to have a concert in Malaysia."
In a turn of events, U-KISS had a little surprise for Malaysian fans as well. Together with local Korean restaurant Daorae Garden, the group donated RM30,000 to an orphanage.
GENEROUS: Thirty thousand dollah!
Kevin, who speaks English, said: "Malaysian fans have given so much to us, so this is our way of giving back."
U-KISS performs
The energy went up a notch when U-KISS took the stage for their 4-song performance after a brief costume change.
SHOWTIME: U-KISS mesmerizes the crowd
The talents kicked things off with their latest number 0330 – a ballad with a more mature sound compared to their previous tracks.
U-KISS then went on to impress with their older hits Bingeul Bingeul and Shut Up. They ended the showcase with a mean performance of Man Man Ha Ni.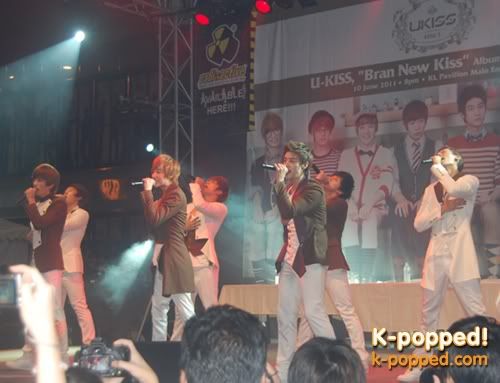 SONG & DANCE: 'Let us entertain you, Malaysia!'
Sadly, the Bran New Kiss showcase was missing…well, a showcase of the group's songs from the mini album, which is their fifth.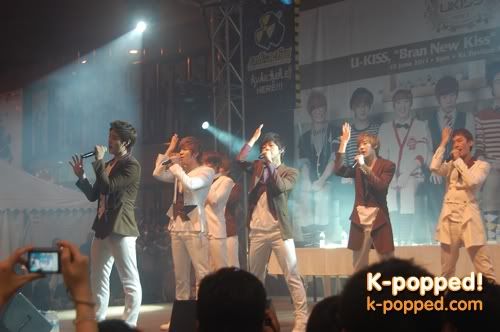 FORMATION: 'Weve got wicked choreography too. Whoa, check us out!'
All too soon, the event came to an end with the autograph session, leaving Kpop music lovers wondering about the other songs that are on the mini album.
More U-KISS
In a promise to his fans, Kiseop – with AJ interpreting – said: "We'll prepare for our performances and we will be back soon." Lovely.
I UNDERSTAND YOU PERFECTLY: Kevin sweet talks the crowd in English.
U-KISS is a "self-sufficient" group in the sense that they do not need interpreters. The group, which is more popular overseas than in South Korea, have three English-speaking members. It's rather cute seeing them interpreting for the other four that are not so fluent in English.
Also, earlier this year, the band went through a change in its line-up. AJ (formerly of Paran) and Hoon were added to the group while Alexander and Kibum were given the axe. While rumor has it that the two boys were removed because they were not "popular" enough, there is no official word on why the change took place.
Nonetheless, U-KISS' popularity with KissMes have not quite changed with the new line up.
KISSMEs: Supportive all the way
While in Malaysia, U-KISS also made an appearance on 8TV's Ultimate Power Star final showdown, a local Chinese talent show, on June 11. Telecast live from Stadium Negara, the group appeared at about 9:45pm and performed 0330 and Man Man Ha Ni. Dongho and Eli used their Mandarin speaking chops to address the crowd :).
We would love to see more of U-KISS, so here's hoping that the boys will return to Malaysia again with more hit tracks.
For our U-KISS in Malaysia photo gallery, hit the link.