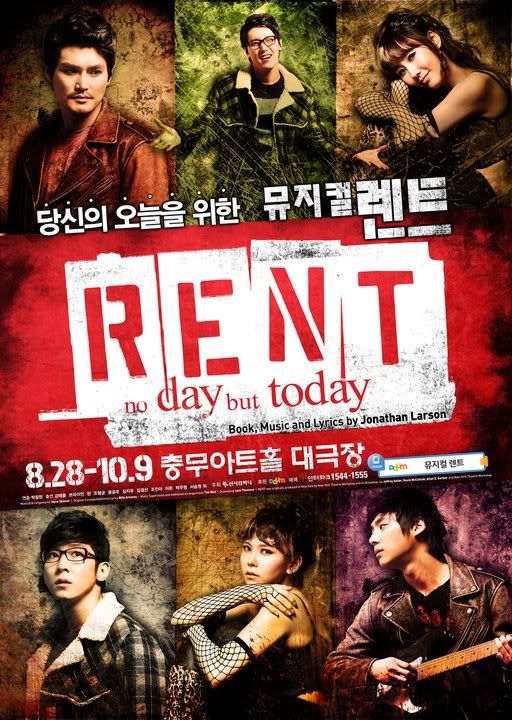 As most of you probably have heard by now, Brian Joo has debuted as a musical actor on August 30th, 2 days after the official opening of "Rent" in South Korea. Brian plays the role of one of the main characters in the musical – an independent filmmaker, Mark Cohen. The rest of the cast include Kang Tae Eul, Yoon Gong Joo, RUN, Kim Ji Woo, Jo Hyung Kyun and Kim Kyung Sun.
To celebrate and encourage the celeb, Brian's fans @brianjoo110 on Twitter (a recognized International fanbase for Brian Joo), came together to contribute a total of 7 rice wreaths, amounting to 210kg of rice. This was also followed by his Korean and Japanese fans with 610kg and 270kg respectively, bringing the combined total of rice donation under Brian's name to 1.09 tons.
Interview with Brian + Rent musicals cut:
The musical will be running up till Oct 9th in the Chungmu Art Hall Grand Theater. So, if you are planning to make a trip to South Korea anytime soon, you might just want to catch this musical.
Brian's schedule, released so far:
Sept 15th at 8:00pm
Sept 17th at 7:30pm
Sept 18th at 6:30pm
Sept 20th at 8:00pm
Sept 22th at 8:00pm
Sept 24th at 7:30pm
Sept 25th at 6:30pm
Sept 27th at 8:00pm
Sept 28th at 8:00pm
Sept 30th at 8:00pm
For more information, you can visit the Rent's official site as well as Interpark for the tickets.
Rent Press Rehearsal:
Credits: brianjoo110
YouTube video: nocutV and IloveBrianGjoo