Teddy Riley's Korean songbirds RaNia is set to serenade the Malaysian youth on Sept 17.
The Dr. Feel Good septet will be making a date with us at Astro's Suara Kami 2011 Concert at Stadium Merdeka, 7:30pm. Don't be late now, ya hear?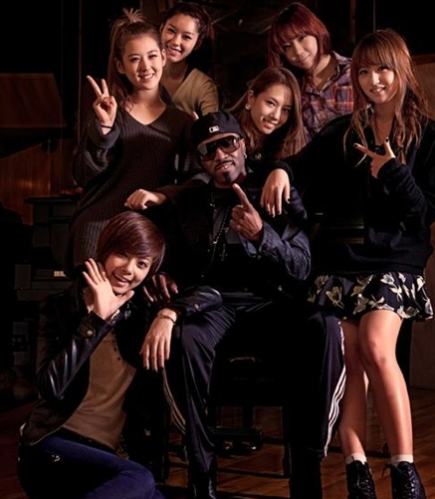 HELLO MALAYSIA: RaNia (sans Teddy Riley) will be performing in Kuala Lumpur on Sept 17!
During the press conference at Zouk, KL on Sept 6, Henry Tan, Chief Operating Officer of Astro Malaysia said: "Music knows no boundaries. It is the common language amongst youth today.
"The Suara Kami 2011 Concert celebrates the spirit of Malaysian youth. It coincides with the significance of Malaysia Day (which falls on Sept 16 – Liz) and the event also marks '15 years of Astro with you' – our valuable customers. We are making it a double celebration with international and local artistes to entertain all Malaysian youth."
DOUBLE CELEBRATION FOR ASTRO: Henry Tan, COO of Astro Malaysia speaks to the press on Sept 6
RaNia will be sharing the stage with playback singers from India: Naresh Iyer and Chinmayi, Canto pop singer from Hong Kong – Hins Cheung as well as some of the hottest names from the local music industry such as Yuna, Hujan, Faizal Tahir and Pop Shuvit.
Admission to the concert is FREE and ticket reservations can be made at http://www.suarakami.com.my.
There will also be ticket giveaways on www.facebook.com/astro or on Twitter: @suarakami2011.
LOCAL ACTS: Some of the local celebs who will be performing at the Suara Kami Concert
Malaysians will also be able to watch the Suara Kami concert on TV on the same day (Sept 17) at 8:30pm on the following channels: Astro RIA (Channel 104), Raya HD (Channel 188), Astro AEC (Channel 301), AstroVaanavil (Channel 201), AstroHitz (Channel 705), TV2 and TV9.
On top of that, there will be live streaming on www.suarakami.com.my, Astro WAP portal and ERA.fm.