2PM concert in Malaysia on Nov 25
Putcho hands up, fellow K-popped! Malaysians! "Beastly Idols" 2PM is coming to town.
JYP's hottest boyband 2PM will be in Malaysia on Nov 25 for a concert at Stadium Negara. The show is set to kick off at 8:30pm.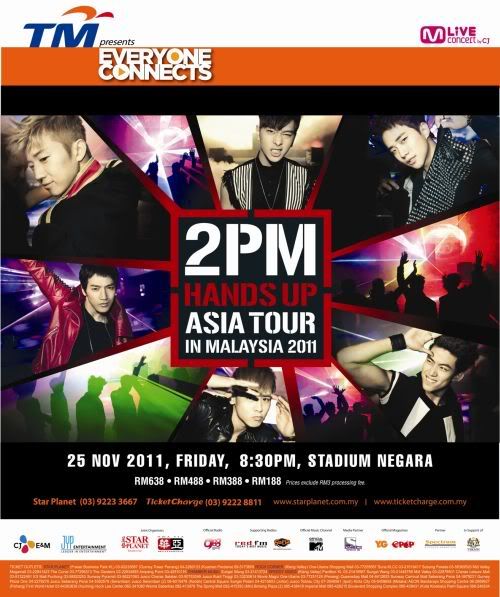 BE THERE!:…or you know what shape you'll be 😉
The 2PM Hands Up Asia Tour Live in Malaysia 2011 will be the group's very first live performance in our country. Uh huh, it's an event not to be missed.
The sextet has many hit songs under their belt such as 10 Out of 10,  Again & Again, I'll Be Back and their latest chart topper, Hands Up.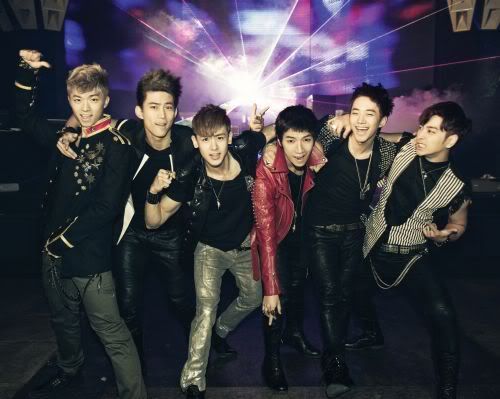 ARE YOU READY, MALAYSIA?: Putcho hands up if you are going \o/
One of the key features of the upcoming concert is a T-shaped runway that juts out from the main stage that allows the stars to "walk into the crowd".
Ticket prices are at RM638 (Standing Rock Zone), RM488 (numbered seating), RM388 (numbered seating) and RM188 (free seating). Prices quoted are exclusive of the RM3 processing fee.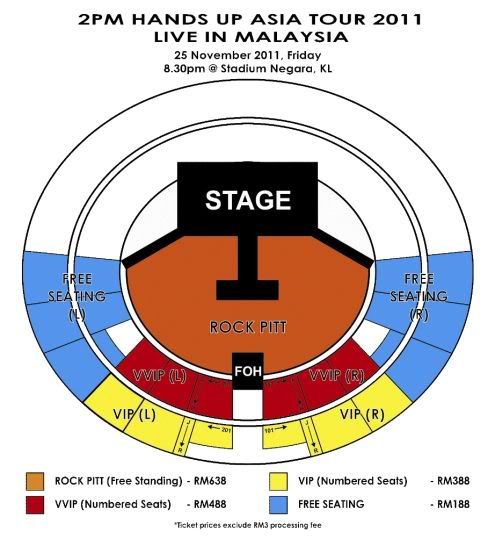 SEATING PLAN: Where will you be at?
Jointly organized by Star Planet and Hwa Yea Multimedia, and presented by TM Everyone Connects, a priority ticket launch is scheduled on Oct 8 at KL VIVA HOME from 2pm to 8pm.
TM customers will enjoy a 20% discount when the latest TM bill is presented while purchasing the tickets at the launch. Internet booking will also be available from 2pm onwards on that day.
For more information, go to www.starplanet.com.my. Or you can call Star Planet at 03-9223 3667 or TicketCharge at 03-9222 8811.